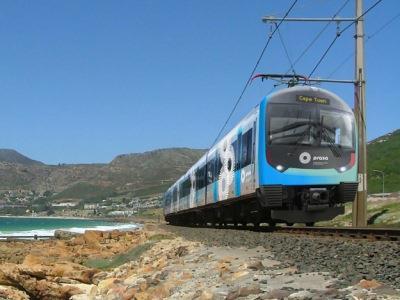 SOUTH AFRICA: The Gibela Rail Transport Consortium of Alstom and its local partner Actom has been selected as preferred bidder for a 20-year programme to design, manufacture and supply commuter EMUs for Passenger Rail Agency of South Africa.
PRASA Chief Executive Lucky Montana and Transport Minister Dikobe Ben Martins announced on December 5 that Gibela had been selected for the first of two 10-year contracts, covering the supply of 3 600 vehicles under a R51bn deal including maintenance for 18 years.
Financial close is expected by the end of June 2013, with test trains expected to arrive in the first quarter of 2015 and series deliveries starting at the end of that year. The second phase could lift the total order volume to 7 224 vehicles, potentially valued at R123bn.
Other bidders were CSR-Wictra, Bombardier, Dudula Rail, China CNR Corp, CSR EMU Supply, and CAF.
Montana said the bid evaluation had been 'thorough and competitive', based on a weighting of 85% for price and 15% for economic development. Gibela has agreed to spend R746m on 'the development of enterprises in the rail sector' R273m on socioeconomic development and R797m on skills development.
More than 8 000 direct jobs are to be created in line with the government's policy to develop skills, achieve broad-based black economic empowerment and revitalise South Africa's railway manufacturing capability. With the contract stipulating a minimum of 65% local content, Gibela says it will achieve 69% by year 2, although the local factory is not expected to be operational until June 2016. The consortium is reportedly proposing to use Transnet Rail Engineering's plant for some production.
PRASA currently has 4 638 EMU cars for its Metrorail operations in Gauteng, Durban, Western Cape and Eastern Cape, of which 90% date from the 1950s, and no new stock has been acquired since the mid-1980s. The agency has been developing its rolling stock replacement strategy for several years, appointing a consortium including KPMG and Interfleet Technology to undertake a feasibility study in 2010-11. A formal request for proposals was issued in April 2012.
PRASA estimates that it will need 5 256 cars to cope with the increasing passenger volumes on its existing network up to 2020, and a further 456 for projected growth to 2030. The remaining 1 512 vehicles are envisaged to operate new lines which may be built by 2035 as part of its expansion plans. The agency says depots will be needed in each region to maintain the new cars, but these are being procured separately.
Briefing parliament towards the end of November, Martins said the government had budgeted R40bn for rolling stock acquisition over the next decade, allocating R4bn a year from 2013 onwards. The remaining investment would have to come from the private sector, he suggested.