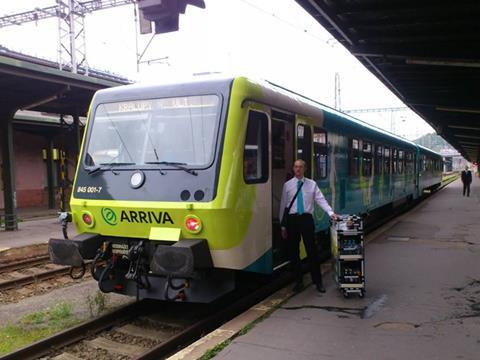 CZECH REPUBLIC: DB subsidiary Arriva Vlaky is to launch an unsubsidised suburban passenger service on the 49 km line between Praha Hlavní and Benešov u Prahy on February 29.
The semi-fast trains will run every two hours on weekdays, calling at Vršovice, Strašnice zastávka, Hostivař, Mnichovice, Senohraby and Čerčany. The journey time of 51 min will be shorter than local stopping trains run by incumbent operator ČD, and ticket prices will be similar.
Arriva plans to deploy its sole serviceable diesel multiple-unit 845.001 (former DB 628 246), which has a maximum speed of 120 km/h and 143 seats. This has been refreshed by Pars nova Šumperk.
Arriva operated eight pairs of semi-fast weekday trains on the 26 km Praha – Kralupy nad Vltavou route between September 23 and December 13 2013, but it was unable to persuade the regional authorities to provide a subsidy for continued operation.
On March 5 Arriva will launch a long-distance cross-border open access service from Praha to Trenčín in Slovakia. This service is targeted at students, with a weekly departure from Praha Hlavní at 08.40 on Saturdays, arriving back in Praha at 19.24 the following day. The 5 h j

j

ourney with stops including Pardubice, Olomouc, Přerov, Otrokovice, Uherské Hradiště and Uherský Brod will also be worked by DMU 845.001 and will be faster than direct bus services.