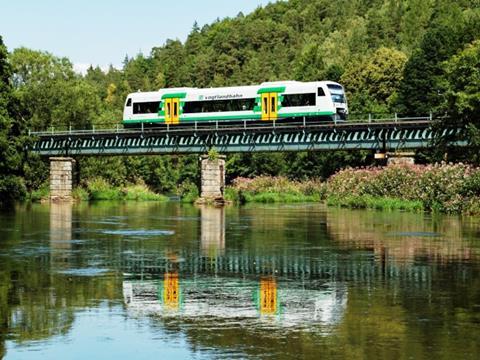 EUROPE: A fourth cross-border rail link between Germany and the Czech Republic was formally reopened on December 7, with a ceremony attended by Czech transport minister Dan Tok, Bayern interior minister Joachim Herrmann and German State Secretary Dorothee Bär.
Closed to passenger traffic in 1945, the 7 km link between Selb-Plößberg and Aš restores a through route from Hof to Cheb. Revenue services are due to resume with the timetable change on December 13. Under a tendered contract from regional transport agency Bayrische Eisenbahngesellschaft which runs until 2023, Netinera subsidiary Die Länderbahn GmbH will operate a two-hourly service between Hof and Marktredwitz via Aš, Františkovy Lázně and Cheb. Connections will be provided at Cheb with trains to and from Karlovy Vary, Plzeň and Praha.
According to BEG CEO Johann Niggl, the project has been made possible 'thanks to the joint commitment of BEG, the Bayern and Czech transport ministries and our partners in Karlovy Vary and Plzeň'. In order to meet the licensing conditions for operating in the two countries, ČD will 'sub-lease' the trains while they are on Czech territory.
DLB was officially launched on November 30, bringing together the former Regentalbahn and Vogtlandbahn business units which operate regional services in Germany and the Czech Republic under the Alex, Oberpfalzbahn, Trilex, Vlexx, Vogtlandbahn, Waldbahn and BLB brands as well as the Regentalwerke rolling stock maintenance business. With its headquarters in Viechtach, DLB is a 100% subsidiary of Regentalbahn AG, which itself belongs to Netinera Deutschland GmbH, acquired by Trenitalia following the takeover of Arriva by DB.