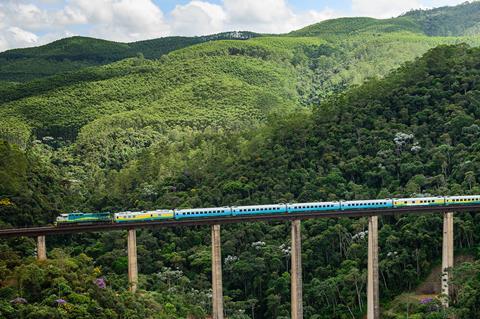 BRAZIL: Plans to launch regional passenger services over seven short or medium-distance routes are likely to be included in a National Railway Plan due to be published by the government of President Luiz Inácio Lula de Silva in October. A Passenger Rail Transport Policy establishing guidelines, principles and objectives for new passenger trains is expected to be launched around the same time.
Feasibility studies covering technical and economic assessments will be needed for all seven routes. In each case the intention would be to use a public-private partnership to establish the passenger service, although questions remain about raising the money needed as well as operating costs. In most cases existing rail alignments used by freight trains could be utilised, but substantial track and infrastructure rehabilitation work is likely to be needed.
Initial details of the seven routes were outlined last month at the Rail Interoperability Forum organised by the Institute of Engineering. Undersecretary for Partnerships in the Ministry of Transport Olavo Soares Bastos said on that occasion that the rail sector was a priority for the government.
The seven routes proposed are:
Brasília, Distrito Federal, to Luziânia in Goiás state, about 60 km;
Maringá to Londrina in Paraná state, about 100 km;
Pelotas to Rio Grande in Rio Grande do Sul state, about 60 km;
Salvador to Feira de Santana in Bahia state, about 110 km;
Fortaleza to Sobral in Ceará state, about 200 km;
São Luís to Itapecuru Mirim in Maranhão state, about 115 km;
Duque de Caxias, north of Rio de Janeiro, to Itaboraí and Niteroi in Rio de Janeiro state; this would entail a route round Guanabara Bay.
At the moment, suburban trains run in several Brazilian cities, along with some tourist operations, but the only main line passenger services are on the 1 000 mm gauge Estrado de Ferro Vitória a Minas and the 1 600 mm gauge Estrado de Ferro Carajás; both are operated by mining group Vale.