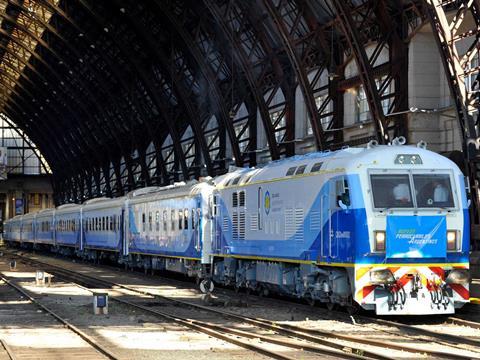 ARGENTINA: Minister of the Interior & Transport Florencio Randazzo was present at the Retiro terminus in Buenos Aires on April 1 to see off the first service to Rosario operated with new traction and rolling stock purchased by the federal government from CNR Changchun of China.
'Each train has capacity for 309 passengers', said Randazzo, including two first class 'Pullman' coaches and a dining car. 'The fares are really accessible', he said, 30% less than the average coach fare and costing 175 pesos or 225 pesos in Pullman class.
Operating daily, the new service leaves Buenos Aires at 16.07 to arrive at the new Rosario Sur station at 22.35. In the return direction, the train departs Rosario at 00.30 to arrive in Buenos Aires at 06.58.
Randazzo said that journey times would progressively improve as work was completed to renew 517 km of track between Buenos Aires and Rosario. With work completed on the line towards Rosario, there were now 30 active worksites on the line towards Buenos Aires, he reported.