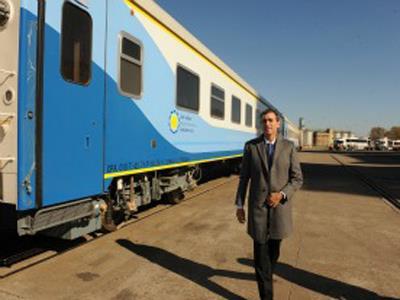 ARGENTINA: On July 3 the federal government announced the arrival of a further batch of 17 passenger coaches from CNR Changchun of China, due to be deployed on long-distance services from Buenos Aires to Mar del Plata and Rosario. The latest batch includes first and second class vehicles, a restaurant car and generator vans.
CNR Changchun is supplying a total of 220 coaches, including 20 sleeping cars and 20 car-carrying wagons, of which three 11-car rakes have already been delivered. They will be hauled by 20 diesel locomotives built by CNR Dalian, due to be commissioned in mid-July. Each powered by a 2 200 kW MTU 16V 4000 R43 engine, the 13 type CKD8G units will have a maximum speed of 120 km/h, while the seven CKD8H locos will be capable of operating at up to 160 km/h.
'The arrival of these completely new coaches is a very important step forward in the upgrade of long-distance services to Mar del Plata and Rosario that we are undertaking', said Minister of the Interior & Transport Florencio Randazzo. 'Once the delivery of the new trains and track renewals are completed, we hope to be able to offer a quality service with reasonable journey times'.