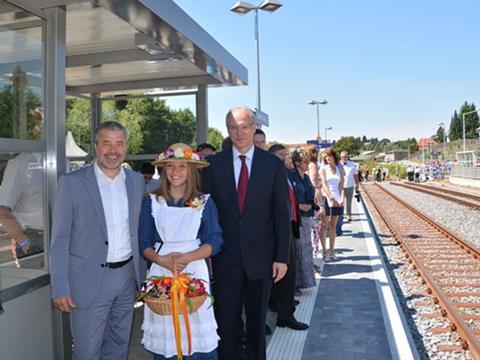 EUROPE: Passenger services returned to the line between Dolní Poustevna in the Czech Republic and Sebnitz in Germany on July 4, almost 70 years after it closed in the aftermath of World War II.
The reopened route is used by eight Route U28 return services a day between Rumburk and Děčín, operated with DB Regio Class 642 diesel multiple-units and ČD traincrew. The service is funded by the Ústí nad Labem region and Verkehrsverbund Oberelbe transport authority, and is being marketed to promote national park tourism. Ridership is expected to be 700 passengers/day.
Czech infrastructure manager SŽDC had completed rehabilitation of its section of the revived route in mid-2009, laying new track to the border, modernising Dolní Poustevna station and upgrading the 5·7 km Dolní Poustevna – Mikulášovice section at a cost of KC65·9m.
However, the rehabilitation of the 0·25 km German section at a cost of €2·8m was hindered by legal disputes over construction approval and the need to sign long-term passenger service contracts, which meant that a funding agreement was not signed until June 2012.
Later this year SŽDC and DB Netz will begin rehabilitation of the line between Aš and Selb-Plössberg for reopening in December 2015.