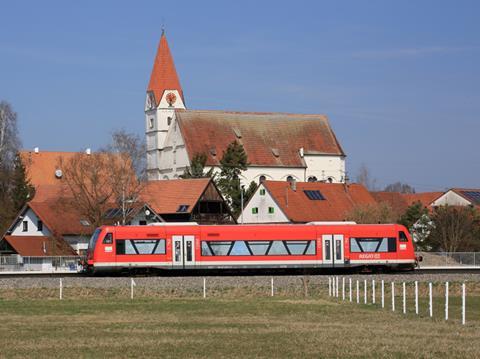 GERMANY: Following a European tender, Bayern railway authority BEG has selected incumbent DB Regio to operate Dieselnetz Ulm passenger services from December 2020 until December 2032.
The contract covers regional services on the Ulm – Memmingen (– Buxheim) and Ulm – Weißenhorn routes which are to be operated using new Alstom Coradia Lint diesel multiple-units, as well as on the Mittelschwabenbahn (Ulm –) Günzburg – Mindelheim route which is to be operated using refurbished Stadler RegioShuttle railcars. The units are required to have air-conditioning, an accessible toilet and a large multi-purpose area, and there must be a second member of staff on at least half the services and on specified evening services.
Phase 1 of the contract covers the operation of 1·5 million train-km/year and will largely retain the current timetable. Phase 1·5 would introduce more services, ahead of the opening of new stations under Phase 2.
The contract includes priced options for additional services for students and to fill gaps in the timetable, which BEG could exercise if funding were secured.