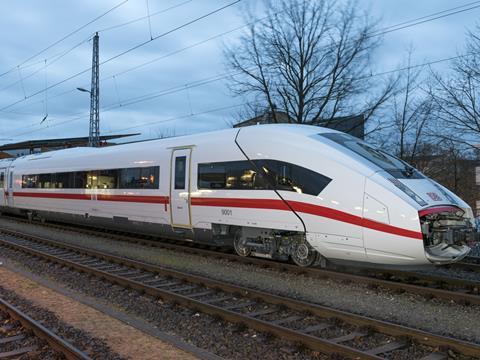 GERMANY: Deutsche Bahn revealed details of an ambitious programme to regain lost business in the long-distance passenger market through expansion of its ICE and IC networks on March 18. The move follows an unprecedented surge in long-distance coach travel since market deregulation in 2013.
Faster and more frequent trains serving more destinations are envisaged in a programme which DB says will see €12bn invested by 2030. Thanks to a 25% increase in service levels, DB hopes to attract up to 50 million more passengers a year.
Highlights of the plans include two ICE services an hour on core routes and the relaunch of IC services using 120 double-deck trains that will serve 'nearly all' towns and cities in Germany with a population of more than 100 000. Completion of sections of new line between Nürnberg and Berlin will cut München – Berlin timings to under 4 h from 2018.
The first of 130 ICx trains will enter service in late 2017. When deliveries are complete, DB says it will have 360 trains offering ICE standards of accommodation and service.
Changes will be made to DB's fares policy with the launch of a three-month Bahncard, free seat reservations in both classes, same-day availability for Sparpreis tickets and freedom to use IC services with local tickets on selected routes. ICE and IC services will offer passengers free wifi in both classes.
Ulrich Homburg, DB's Board Member for Passenger Transport, said that 'with the largest and most modern long-distance network since the railway reform we want to make our contribution to Germany's future … with two ICE trains an hour on the main routes we will effectively be creating a super-fast and very comfortable S-Bahn between Germany's cities.'
A feature article on the impact of deregulation of the long-distance coach market appears in the September 2014 issue of Railway Gazette International, which subscribers can read in the digital archive.