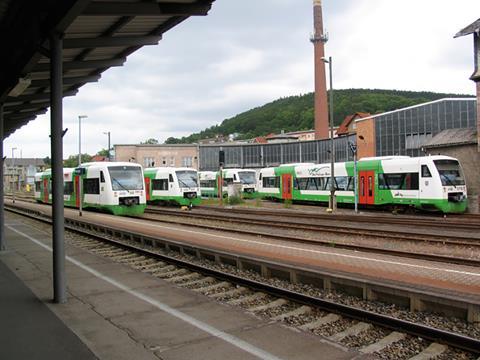 GERMANY: Following a competitive tender, on October 28 the Land of Thüringen named Süd-Thüringen-Bahn as the winner of the next two contacts to operate Dieselnetz Südthüringen local passenger services.
Incumbent operator Süd-Thüringen-Bahn is owned by Erfurter Bahn and Hessische Landesbahn.
The new contracts will run for 11 years from December 10 2017 to December 2028, and cover the operation of a total of around 4·2 million train-km/year on six routes:
Lot A
R41 Eisenach – Eisfeld – Sonneberg;

R42 Sonneberg – Neuhaus am Rennweg;

R48 Fröttstädt – Friedrichroda (currently operated by DB);
Lot B
R44 Erfurt – Meiningen;

E45/R46 Erfurt – Plaue – Ilmenau;

E50 Erfurt – Zella-Mehlis – Wernshausen.
The services are to be operated using the existing fleet of 32 Stadler RegioShuttle RS1 railcars and a further five which are to be acquired. The railcars are to be modernised with new information systems, passenger- counting equipment and luggage racks, and their internal layout will be modified to improve accessibility and provide more space for bicycles.
Options for service frequencies to be increased were included in the tender but have not been exercised, as a final funding agreement has not been reached with the federal government.