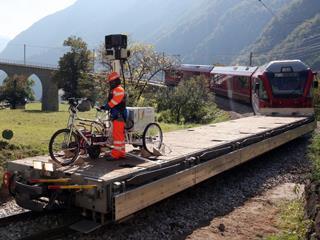 SWITZERLAND: Panoramic images of Rhätische Bahn's 122 km Albula and Bernina lines between Thusis and Tirano are now available on Google Street View.
Martin Sturzenegger, Head of Sales & Marketing at RhB, said the virtual train ride will help promote the railway as an experience for tourists before, during and after their journey.
The images were recorded in October 2011, using a 360° camera mounted on a tricycle which was loaded onto a flat wagon propelled by a Stadler Allegra electric multiple-unit.
This the first time that Google has added a railway line to Street View, and is part of a project to enable internet users to make 'virtual visits' to UNESCO World Heritage Sites.
Größere Kartenansicht