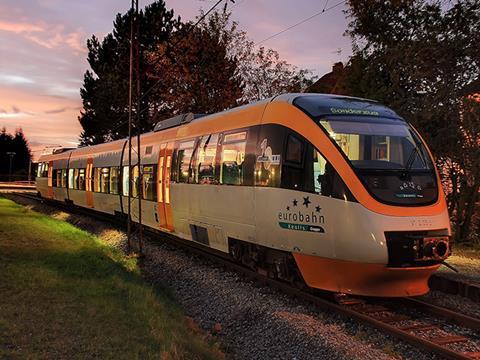 GERMANY: Keolis subsidiary Eurobahn was named as the preferred bidder for the next Teutoburger Wald passenger operating contract on November 6.
The new contract is being awarded by Westfalen-Lippe transport authority NWL, in co-operation with Niedersachsen's LNVG and the Netherlands' Regio Twente and Overijssel province. It will run for 15 years from December 2017, and cover the operation of around 5·3 million train-km/year on five routes:
RB61 Wiehengebirgs-Bahn: Bielefeld – Bad Bentheim – Hengelo;
RB66 Teuto-Bahn: Münster – Osnabrück;
RB65 Ems-Bahn: Münster – Rheine (integrating the current RB68 service);
RB72 Ostwestfalen-Bahn: Herford – Altenbeken – Paderborn;
RE78 Porta-Express: Bielefeld – Minden – Nienburg.
Four of the routes are currently operated by WestfalenBahn, while RB78 is operated by DB Regio. The current Stadler Flirt fleet will transfer to the new operator.
Changes in the new contract will include an hourly RB61 service with a direct link to Hengelo in the Netherlands and new rolling stock to increase the number of seats from 180 to 266 per train. Half of all trains before 19.00 and all trains later in the day will have an onboard conductor.