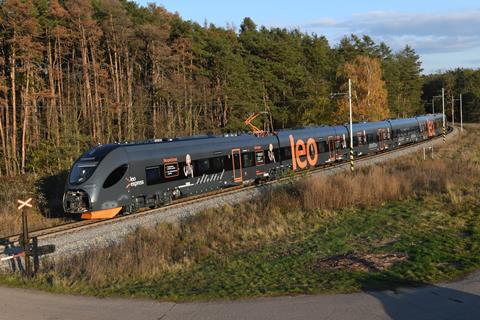 CZECH REPUBLIC: Leo Express has launched a pilot first and last mile service by partnering with peer-to-peer car sharing company HoppyGo. The open access operator has become a minority shareholder in HoppyGo and expects to expand the service to destinations in Poland next year.
Describing HoppyGo as 'basically Airbnb for cars', Leo Express COO & Acting CEO Robin Svaricek told delegates at the World Rail Festival in Amsterdam on December 5 that the service would be integrated with rail ticketing so that there would be 'one purchase, one ticket'. The next step will be to launch ride sharing when someone rents a HoppyGo car, he suggested.
Echoing moves across the travel industry, Leo Express says that the 'modern ticket purchase' will combine taxis, shared bikes and cars with public transport.
In order to reduce its debt burden and free up funding for further expansion, Leo Express sold its original five Stadler Flirt EMUs to Raiffeisen–Leasing in August under a 10-year sale and leaseback agreement. The first of the three 160 km/h Sirius EMUs it ordered from CRRC Zhuzhou Electric Locomotive in 2016 is currently on test at Velim, and a second is due to arrive in mid-December. These six-car dual-system Class 665s are expected to enter service by December 2020, operating Czech domestic routes and international services to Slovakia and Poland.