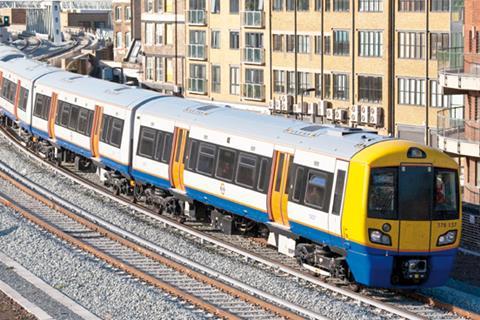 UK: A £320m programme of rolling stock procurement and infrastructure works to extend London Overground's 57 Class 378 electric multiple-units from four to five cars was approved by the Transport for London board on February 6.
TfL is negotiating with Class 378 Capitalstar EMU manufacturer Bombardier Transportation and QW Leasing for the supply of the additional cars, which would be leased until 2027. The European Investment Bank may part-finance the order.
TfL hopes to place a firm contract shortly, with a view to providing five-car services on the East London Line by December 2014 and on the routes in north London the following year.
The parties are also discussing a price for a further two EMUs, which would enable an increase in frequencies on the ELL.
Severe overcrowding is being experienced on sections of the Overground network at peak times. Demand is forecast to increase by 25% by 2021, which TfL warns would lead to 'widespread severe overcrowding' if not addressed.
TfL plans to call tenders in March for infrastructure works needed to accommodate the longer trains. This includes provision of additional stabling, reconfiguring New Cross Gate and Willesden depots, enhancement of turnback sidings and platform lengthening. Where practical, provision is to be made for six-car trains.
Work to increase train lengths on the unelectrified Gospel Oak - Barking route is not included in the scheme, and proposals for this line would only be brought forward once funding is identified.
On February 11 TfL announced it was exercising its option to extend London Overground Rail Operations Ltd's contract to operate London Overground services. The agreement with the LOROL joint venture of MTR and Arriva was due to expire on November 8 2014 but will now run to November 12 2016. The concession will be re-tendered in 2016.