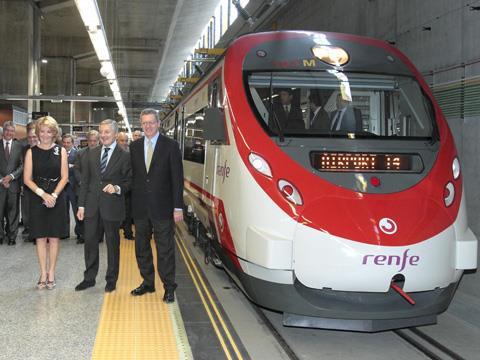 SPAIN: RENFE suburban services began running to a new station beneath Terminal 4 at Madrid Barajas airport on September 23. An official opening ceremony had been performed the day before by Development Minister José Blanco, President of the Madrid regional government Esperanza Aguirre and Mayor of Madrid Alberto Ruiz-Gallardón.
Trains on route C1 now run every 30 min from the airport, offering a journey time of 11 min to Chamartín station, 18 min to Nuevos Ministerios and 25 min to Atocha. The single fare to the centre of Madrid is €2·15, while holders of tickets for RENFE high speed services travel for free.
Construction of the 8·8 km airport rail link has cost €218·3m, with the first section over 4·1 km of upgraded infrastructure between Chamartín and a new station at Fuente de la Mora opening on March 24 this year. The remaining 4·7 km to Terminal 4 is new infrastructure running entirely in tunnel, serving one intermediate station at Valdebebas where construction is still ongoing.
The tunnel section features dual-gauge slab track that will enable 1 435 mm gauge high speed services to run to the airport, and catenary that can be energised at 25 kV AC as well as 3 kV DC. Completion of a 1 435 mm gauge track between Chamartín and Hortaleza will join Barajas to the Spanish high speed network.
September 23 also saw restructuring of RENFE's Madrid suburban network, with route C3 extended from Chamartín to El Escorial and the peak service on route C2 to Guadalajara increased to every 12 min. More double-deck rolling stock has been introduced on this route, and the number of Civia EMUs deployed across the network increased from 72 to 88.