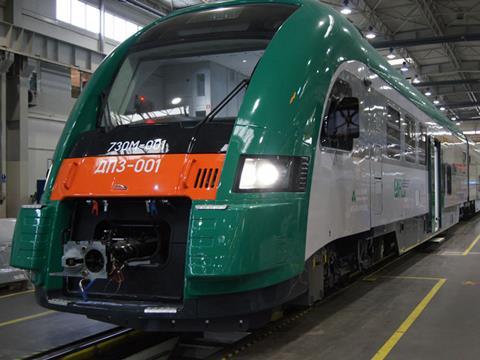 BELARUS: A passenger service between Minsk Pasažyrski station and Minsk National Airport was launched by Belarus Railways on November 7. The trains call at Smaliavičy to provide interchange opportunities for passengers from regional destinations.
There is an initial service of five trains per day with a total journey time of around 70 min, including 55 min on the train and a 5 min bus transfer to the airport terminal. Train crew will alert airport staff to the number of passengers on a particular service, to enable the appropriate number of buses to be provided. The fare is 25 000 rubles, including the bus transfer, with tickets sold at the airport and on the trains as well as at railway ticket offices.
The airport rail link makes use of existing infrastructure which has been modernised at cost of 105bn rubles, funded by Belarus Railways with a 11bn ruble contribution from the Ministry of Transport. These works included resignalling, construction of a platform on a freight line serving the airport and the provision of a bus turning circle.
The service is operated using Pesa DP3 three-car diesel multiple-units, which offer a capacity of 143 passengers, low-floor entrances, reclining seats, air-conditioning, power sockets, luggage space and two controlled-emission toilets, one of which is wheelchair accessible.