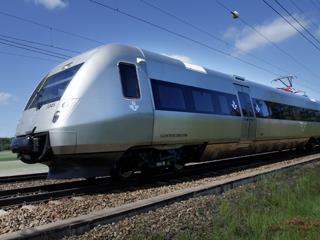 SWEDEN: In the draft timetable for 2014, MTR Nordic has been awarded nine Stockholm – Göteborg train paths each way on weekdays as well as weekend paths, with the majority starting on August 25 2014.
Citytåget i Sverige has been awarded four weekday paths in each direction as well as weekend paths from March 2014. Incumbent SJ stands to lose the two daily train paths for slower inter-city trains, but will keep its express trains on the route. There are to be no changes to Skandinaviska Järnbanor's Stockholm – Göteborg services.
Six passenger routes have been scheduled for new or increased traffic. This includes Hector Rail's plans to start a Stockholm – Sundsvall service, and the reinstatement of SJ's Malmö – Göteborg express. Svenska Tågkompaniet and Tx-Logistik have also been awarded new paths.
Infrastructure manager Trafikverket has asked for opinions on the draft timetable by August 8.