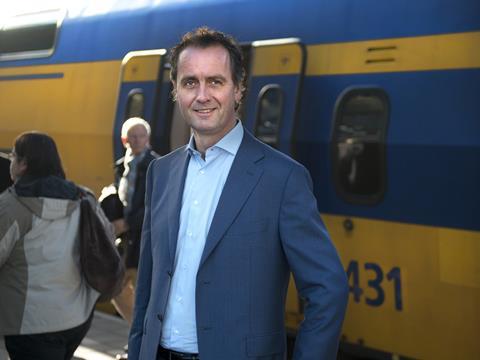 NETHERLANDS: Timo Huges resigned as Chief Executive Officer of national passenger operator NS with immediate effect on June 5, after the supervisory board withdrew its confidence as further details emerged about the irregularities in the Qbuzz subsidiary's bid for the Limburg operating contract.
No severance payment will be made. Huges has been replaced on an interim a basis by Chief Financial Officer Engelhardt Robbe.
Announcing the departure of Huges, NS said its investigations had found that statements he had made about his contacts with the directors of Qbuzz were 'inaccurate and incomplete'. Abellio Holding CEO Jeff Hoogesteger will also leave without compensation, with Robbe taking over his role on a temporary basis.
The province of Limburg had selected Qbuzz subsidiary Abellio Limburg as the winner of a 15-year contract to operate local rail and bus services on February 10. However, on April 28 NS announced that an internal investigation had discovered that a former employee of incumbent Veolia had been hired through an intermediary and provided confidential information. The contract award was cancelled, with second-ranked bidder Arriva awarded the contract on June 2.
NS said its ongoing investigation would leave no stone unturned. It is implementing a comprehensive action plan to review the effectiveness of its internal procedures, and is to appoint a director with responsibility for governance, risk management and compliance.
In a separate development, an independent investigation commissioned by NS has confirmed an external consultant leaked confidential information to a Bombardier employee during the procurement of the Sprinter New Generation fleet. However NS has concluded that this did not influence the outcome of the tender; Bombardier did not participate, and it was won by CAF.