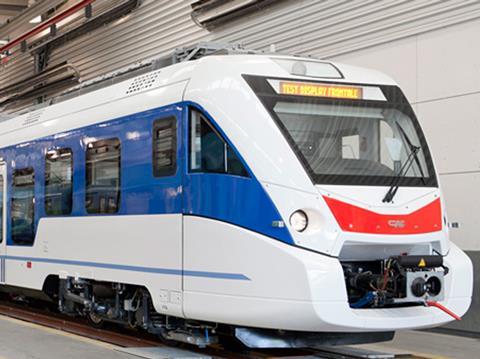 NETHERLANDS: National passenger operator NS named CAF as preferred bidder to supply its Sprinter New Generation electric multiple-unit fleet on October 30. The Spanish firm beat a rival offer from Alstom.
Expected to be finalised in December, the contract would cover approximately 120 EMUs worth €510m, with options for more. Entry into service is planned from 2018.
The SNG trainsets would be part of CAF's Civity family, and based on units proven in service in other countries. They are to have wide gangways and provision for the installation of ETCS. Following complaints about the lack of toilets on the current Sprinter Light Train fleet, the new units are to have a wheelchair-accessible toilet.
NS also expects to shortlist potential suppliers for its Intercity New Generation trains by the end of the year. The ICNG trains are expected to enter service between Amsterdam and Rotterdam from 2021 to support a planned high-frequency timetable and the further integration of HSL-Zuid services with the wider network. Low-floor entrances and wide doors are required, and the desire for a service-proven train in the wake of the V250 debacle means that initial aspirations for a 249 km/h design have been scaled back to 200 km/h following preliminary discussions with potential suppliers.
NS plans to source 50% of its traction energy requirements from wind power next year, and 100% from 2018.