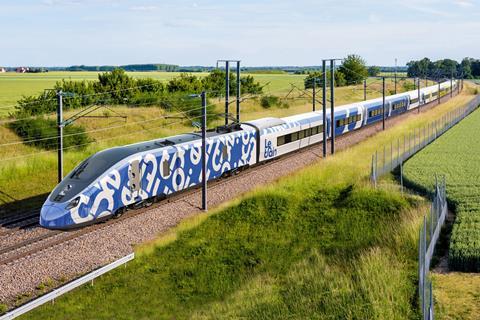 FRANCE: Aspiring open access operator Le Train has raised a further €8m to support its plans to launch passenger services from Bordeaux to Angoulême, Poitiers, Tours, Nantes and Rennes.
The funding was raised from Aquiti Gestion, Charente Périgord Expansion, Naco and Tudigo, joining existing investors Crédit Agricole Charente-Périgord and Crédit Mutuel Arkéa.
This will enable Le Train to become the first customer for Wiremind's Paxone ticketing and reservation platform, and will also enable it to train future staff.
A further funding round is expected this autumn, with the aim of raising €35m to €50m to secure rolling stock and depot access.
Le Train is in active discussions to obtain second-hand trains with a view to launching passenger services in December 2024. If this does not prove possible, it hopes to launch in 2026 using 10 new Talgo Avril trainsets which would be supplied under a framework agreement signed with the Spanish manufacturer in January.
Le Train has expressed interest in the French government's call for tenders to operate Nantes – Lyon and Nantes – Bordeaux inter-city services.