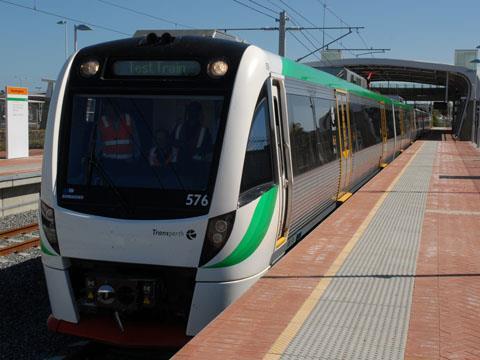 AUSTRALIA: Public Transport Authority of Western Australia has begun consultation on a strategic plan for the development of rail, bus rapid transit and light rail services with the aim of addressing congestion and accessibility issues as Perth grows to an expected population of 2·5 million by 2031.
Heavy rail elements of the 'Public Transport in Perth in 2031' vision are costed at A$1·2bn at 2010 prices. They include an extension of the Northern Suburbs line by 13·8 km from Butler to Yanchep to encourage high-density development, and a 7 km branch from the Midland line at Bayswater to the airport, with park-and-ride and bus interchanges. Longer term ambitions include a 15 km extension of the Armadale line to Byford and Mundijong, and a 11·5 km extension of the Thornlie line to link with the Mandurah line.
As well as various bus rapid transit schemes, a A$1bn Central Northern Corridor street-running light rail line is proposed from Mirrabooka to the city centre, with possible extensions through East Wanneroo to Joondalup in the longer term.
Rolling stock acquisition proposals include 156 multiple-unit cars and 29 light rail vehicles.
On July 20 a A$160m order was announced for a 50:50 joint venture of Bombardier Transportation and Downer EDI to supply PTA with a further 15 three-car Series B EMUs, to be produced at Downer's Maryborough plant for delivery from September 2013.