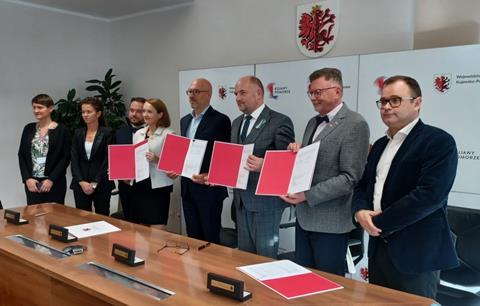 POLAND: Kujawsko–Pomorskie voivodship has awarded incumbents and sole bidders Arriva and Polregio tendered eight-year contracts to operate local passenger train services until December 2030.
The voivodship was a pioneer in opening the Polish passenger rail market. Arriva said '15 years of joint activities show that co–operation between local government and a private operator is possible and allows for the effective implementation of transport operations'.
Marshal Piotr Całbecki said the contracts would protect the interests of residents and public transport users, saying 'passenger rail transport is becoming more popular, and we must do our best not to waste this potential'.
Arriva's 74·4m zloty/year contract signed on October 24 covers services totalling 2·4 million train-km/year on the non–electrified Bydgoszcz – Tuchola – Chojnice, Bydgoszcz – Laskowice – Grudziądz, Laskowice Pomorskie – Czersk, Wierzchucin – Szlachta, Chełmża – Bydgoszcz, Toruń – Jabłonowo Pomorskie, Brodnica – Grudziądz, Toruń – Grudziądz and Toruń – Sierpc routes.
PolRegio's 96·2m zloty/year contract covers lines which are electrified or scheduled for electrification after 2025: Kutno – Włocławek – Toruń – Bydgoszcz, Bydgoszcz – Inowrocław, Gniezno–Inowrocław – Toruń, Bydgoszcz – Toruń – Jabłonowo Pomorskie (plus Brodnica, subject to PKP PLK electrifying the line after 2025); Bydgoszcz – Wyrzysk Osiek, Bydgoszcz – Toruń, Toruń – Jabłonowo Pomorskie, Bydgoszcz – Smętowo, Piła –Bydgoszcz, Inowrocław – Bydgoszcz and Toruń – Inowrocław – Gniezno.