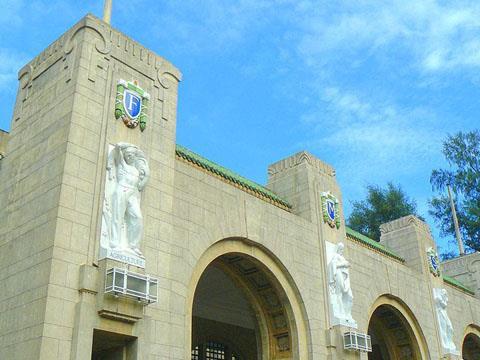 SINGAPORE: The final KTMB train left Tanjung Pagar station for Johor Bahru in Malaysia at 23.00 on June 30, driven by the Sultan of Johar and watched by a crowd of onlookers.
At midnight ownership of the 26 km rail corridor south of Woodlands Train Checkpoint on the Singapore side of the causeway was transferred from the Malaysian national railway to the Singapore government as part of a land swap and development deal.
Closure was preceded by the governments announcing on June 27 an agreement to develop a rapid transit link between Republic Polytechnic in Singapore, Johor Bahru in Malaysia and JB Sentral station. Opening is planned for 2018, with customs and immigration facilities co-located at each end so passengers only have to pass through formalities once in each direction.
In the mean time, KTMB services will terminate at Woodlands, with Singapore committing to ensuring the provision of bus and taxi connections to the metro.
The railway in Singapore was taken over by Federated Malay States Railways in 1912, and remained with the Malaysian national railway when the island left the federation in 1965. Following many years of proposals for a change in ownership, in 2010 the two governments reached an agreement to close the route and make 174 ha of land available for other uses.
Legal protection as a national monument has been given to Tanjung Pagar station, which was designed by Swann & Maclaren and opened along with a deviation line by the Governor of the Straits Settlements in May 1932 (RG 11.32 p598).
The final train was driven by Sultan Ibrahim Iskandar of Johor, whose great-grandfather opened the causeway to Singapore in 1923. It was 'a sentimental matter', the Sultan told the Straits Times. 'Besides trains, I fly jets, helicopters, and I sail my own yacht. I am never a boring person. Everything to me is a challenge. I always like to find something new to do.'