AESTHETICS: As a showcase for its Rolling Stock Engineering Division, SNCF has enlisted the help of a team of designers to rethink the passenger environment of a regional EMU. Nick Kingsley joined Régine Charvet-Pello, whose agency oversaw the interior redesign, for a guided tour.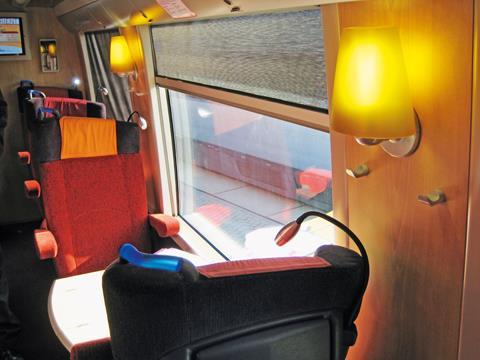 The removal from traffic for substantial mechanical repairs of a Class Z21500 regional express EMU last year prompted national operator SNCF to take an almost unprecedented step by handing a collaboration of interior designers, seat suppliers and branding consultants the chance to renew completely the aesthetics of the train.
Financed in part by SNCF and the Bretagne region, the MooviTER project aims to create a passenger environment entirely uninhibited by traditional practice and convention. RCP Design Global, the Tours-based studio, was chosen to manage the interior refurbishment, working alongside CIM, SNCF's rolling stock engineering division. RCP has pioneered the concept of 'sensory design' in its portfolio of work in the transport sector (RG 9.07 p575), which includes the internal and external styling of the Tramway des Maréchaux in Paris. As RCP's President Régine Charvet-Pello explains, MooviTER provided a means for her team to shift the concepts that they had been working on in the studio - and were exhibited on its stand at the 2006 InnoTrans exhibition - into practice.
Uniformity rejected
Crucial to understanding the MooviTER concept is the stipulation that the completed trainset is simply 'a showcase', Charvet-Pello says. 'It is not intended to be the first of a series of identical refurbishments. The incoherent interior is deliberate.' After InnoTrans, the train returned to France for a launch event in Rennes on October 10. A tour of the regions is then to follow, before the unit enters regular service on the TER network in Bretagne in December, where it will operate for a year.
Much of the interior is finished with matt materials, and velour seat moquette in a deep red and blue colour. However, in two of the three cars, RCP has created dedicated experimental zones where some more radical ideas have been implemented.
The first centres on 'discovery'. This section of the centre car is in marked contrast to the remainder of the seating area: the rich velour and deep colours are dispensed with in favour of a complete contrast: leather seats and wood finishes provide a smoother touch sensation and an alternative visual effect. But the most striking distinction is the decision to install rotating seats. 'We are designing for groups that wish to interact', Charvet-Pello says, 'human beings are not always required to sit in alignment'. She likens the space to a living room; the leather finish is intended to reflect the finish of a sofa. 'This is why interior variety is important - in life, people do not eat their breakfast and watch TV from the same seat in the same place, so why should they be forced to accept the same seat with identical positioning in a train' The swivel seats are mounted on pivots on top of the bogie housing, which has been given a wood panel finish and consciously included in the final layout.
RCP's principal aim is to confer as much choice as possible to the passenger, who can decide in what kind of environment he or she wishes to travel. The swivelling seat permits a sociable group to be created in a near semi-circle, or a more conventional arrangement to be adopted by those passengers seeking privacy. Additionally, seats can be manoeuvred towards the window - as Charvet-Pello puts it, 'we should not be obliged continually to look sideways if we wish solely to admire the countryside'.
The local environment is a logical reference point for the design team. The Discovery Space is intended to 'recall the purity of sand, sea and stone' found in Bretagne, and the colours chosen aim to complement the natural light entering through the large windows. Halogen bulbs have been replaced with more environmentally-friendly LED spotlights throughout the train.
'Ludospace'
Besides the urban and main line rail sectors, which together account for around half of its commissions, RCP undertakes considerable amounts of educational design work, focused particularly on pedagogical toys and play areas. Charvet-Pello believes there is scope for overlap between the two apparently unrelated fields, and the results of this research are apparent in the family area that has been created in the end section of one driving car.
Known as 'Ludospace', the area is aimed primarily, but not exclusively, at children. SNCF requested a capacity for 12 people using a flexible seating arrangement. In practice, six seats are arranged facing each other in conventional fashion, but the rest of the seating is formed of five informal bench seats. These are of varying heights and are grouped both by the windows and in the floorspace. 'Our priority was to design a space that caters for children first, but does not exclude the rest of the family - the benches can be used by an adult who wishes to carry on reading or using a laptop.' Charvet-Pello believes that the familial element of Ludospace is a marked departure from previous attempts to create child-friendly areas both in trains and in other public places. 'We absolutely want to avoid confining children to a corner, as they so often are in institutional spaces.'
A great deal of attention has been given to the use of contrasting tactile material, such as velour fabric and wood, and matt and glossy finishes. However, Charvet-Pello emphasises that the design must never become too infantile: 'there are no lurid splashes of pink and yellow, Ludospace is more respectful to children and parents'. Luminous 'animal paw' floor prints lead from the vestibule, a wooden interactive game is included and the door to the cab can be automatically switched from opaque to transparent to allow children to see through the rear cab window.
In addition, the refurbishment features a work space with power sockets and an information point, where a multi-media terminal is situated to provide passengers with details of local tourist attractions.
Record time
Charvet-Pello is quick to praise SNCF, and in particular project manager Philippe Girou, both for giving the designers the freedom to realise their ideas, and to implement the refurbishment project so quickly. The decision to exhibit at InnoTrans was taken in June 2007, meaning that the journey from drawing board to release from the Technicentre at Nevers would take just a year. 'This was the advantage of choosing a single train rather than trying to renew an entire fleet, which would take at least two years. Also, we could go much further with this demonstration', Charvet-Pello explains.
Girou is more forthright still: 'I broke a rule each day for a year to create MooviTER! But we see it as a great ambassador for SNCF's refurbishment skills.' He emphasises that there is absolutely no intention to remodel more trains in the same way as MooviTER - there are 57 EMUs in the Z21500 fleet alone. The train will be used as a real-life consultation exercise, and at the end of its year in service, SNCF will collect feedback from passengers, local authorities and other interested parties about which of the train's features should be incorporated into future vehicles, either refurbished or new build. But nevertheless, Moovi-TER has been designed for active service; no amendments to the design will be made between the launch in Rennes and entry into traffic. Girou adds that, perhaps surprisingly from first impressions, only six seats have been lost in terms of overall capacity.
MooviTER attracted considerable attention whilst on display at InnoTrans, with several operators in other countries, particularly Germany, expressing a desire to see similar projects undertaken on their regional trains. Charvet-Pello is pleased that MooviTER, with its fundamentally local identity, could prove influential far beyond the boundaries of Bretagne.
She concludes by praising SNCF for its bravery in breaking with convention. 'We believe firmly that design is there to meet human needs, not the needs of an industry. This is a train designed around humanistic principles - we have been recommending such a project for 15 years, but finally the industry is starting to listen.'
'I broke a rule each day for a year to create MooviTER'
Philippe Girou, SNCF Project Director, MooviTER