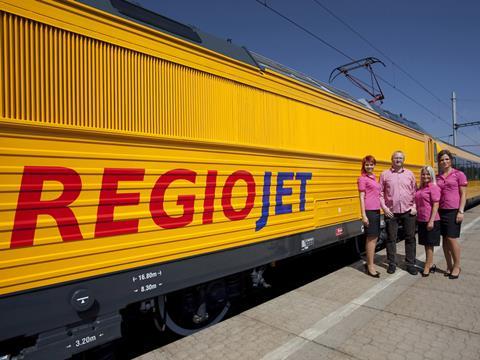 CZECH REPUBLIC: Private operator RegioJet has applied for train paths to launch a new open access passenger service between Praha and the Slovak capital Bratislava from the December timetable change, and has also called tenders for the supply and maintenance of new rolling stock which could be used on tendered services.
The 396 km cross-border route would require 3 kV DC/25kV 50 Hz AC electric locomotives, as with the existing Bratislava – Košice trains. RegioJet currently operates Siemens Vectron MS locos hired from ELL.
RegioJet is seeking up to 60 electric and 30 diesel multiple-units plus 50 coaches suitable for 200 km/h operation under the three four-year framework rolling stock contracts. The potential total value is estimated at KC15bn, although firm orders would depend on RegioJet winning public service contracts.
In April state-owned ČD announced similar tender for new rolling stock. It is still unclear when the proposed public service operating contracts will be tendered by the government or regional authorities, and there is the possibility that the regions could purchase their own rolling stock for lease to the winners of the operating contracts.