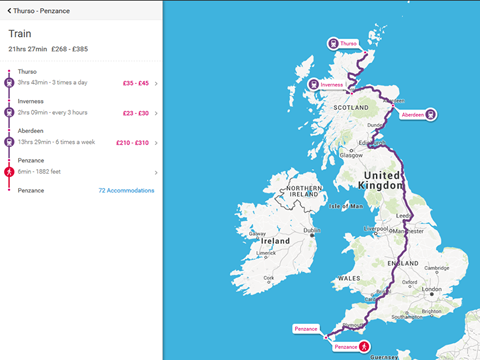 UK: Multimodal transport search engine Rome2rio has begun offering rail ticket bookings using SilverRail's technology platform. Users can search for transport options, and then book the rail segments. The initial launch covers Great Britain, with the USA, Canada and Sweden to be added soon.
Australian company Rome2rio said its website attracts more than 8 million visitors a month, with European customers accounting for more than 65% of traffic. It previously partnered with online travel agents as a third-party affiliate, but said it now aims to 'leverage our significant travel search traffic into a hybrid search/OTA model.'
'The UK is the first of a number of rail markets we'll launch over the coming months', said CEO Rod Cuthbert on May 10. 'We intend to offer a complete multimodal booking capability worldwide, with the distinct advantage over rivals of a powerful search engine capability that allows users to perform the discovery phase of their travel planning on the same site as the booking itself.'
Partnerships with Distribusion and Travelport will cover buses and 'allow us to experiment with onsite flight bookings in selected markets', he added.