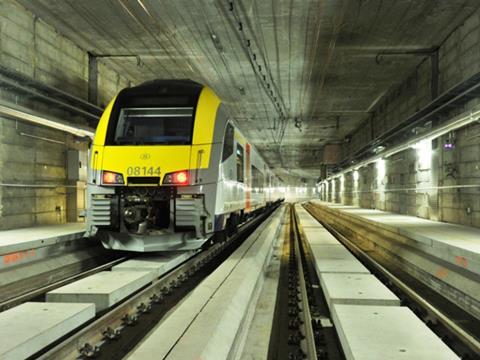 BELGIUM: Local passenger trains began using the 1 250 m Schuman – Josaphat tunnel at 05.50 on April 4, marking the next step in the development of the Brussels Regional Express network. The link had been expected to open with the December 2015 timetable change, but this was postponed pending the completion of safety evacuation tests, which had been delayed by the security restrictions in November.
Built by Infrabel at a cost of around €600m, the new Line 161A provides a connection between the Brussels – Namur Line 161 and the orbital Line 26 at Evere. This enables SNCB to operate direct services from the capital's European quarter to Brussels Airport. The journey time between Schuman and Zaventem airport is reduced from 32 min to 16 min.
The new connection is used by two RER routes – S5 Geraardsbergen – Mechelen and S9 Braine-l'Alleud – Leuven, as well as inter-city services from Namur and Charleroi to the airport, reducing pressure on the busy cross-city tunnel between Brussels Midi and Brussels Nord.
Construction of the link has taken around seven years, requiring some very delicate tunnelling work close to the European Commission headquarters. Design and project management has been provided by engineering subsidiary TUC Rail, which began work to obtain the planning consents as long ago as 1996.
The station at Schuman has been extensively remodelled as an intermodal hub, with two extra platforms and an improved interchange with east-west metro Line 1. As part of the work, Line 161 has been expanded from two to four tracks between Schuman, Brussels Luxembourg and Watermael; the RER project envisages further quadrupling from Watermael to Ottignies to segregate suburban and inter-city services.