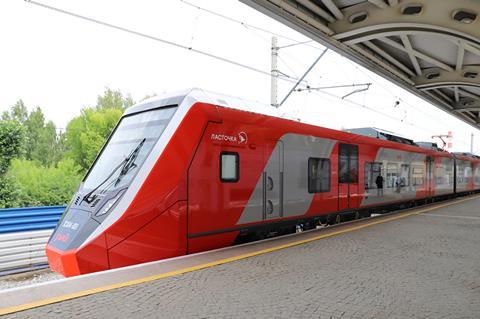 RUSSIA: Sinara Transport Machines presented a prototype of its domestically designed and manufactured Lastochka ES104 Vostok EMU during the Innoprom-2023 fair in Yekaterinburg.
The unveiling was attended by Russian Prime Minister Mikhail Mishustin, Belarus's Prime Minister Roman Golovchenko, and Kazakh Prime Minister Alikhan Smailov.
The ES104 is intended as a successor to the Desiro RUS design, also branded Lastochka, which was developed by the Ural Locomotives joint venture of Sinara and Siemens. The joint venture was dissolved when Siemens Mobility exited the Russian market following the launch of the full-scale war against Ukraine.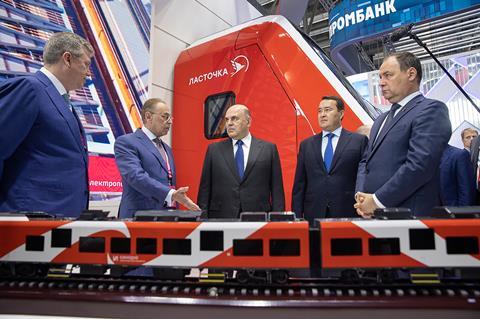 The cabs and front ends of the trainset have been completely redesigned. The next-generation Lastochka is equipped with asynchronous traction equipment and bogies supplied by Transmashholding.
According to Sinara's First Deputy General Director Anton Zubikhin, the new train is made from 99·9% Russian components, and will be able to operate at up to 200 km/h.
The five-car trainset is designed for use with 3 kV DC electrification. It features 416 seats, all equipped with USB sockets, large luggage racks, air-conditioning and air disinfection systems, wheelchair lifts and toilets with changing tables. It also features CCTV for rear view and boarding and alighting, and automation technology to facilitate limited driverless operation in the future. It has a design life of 40 years.
In May, Russian Railways awarded Sinara a contract to supply 22 five-car ES104 Vostok EMUs. The company plans to complete the formal certification process in the third quarter of this year and deliver the first batch of 12 trainsets in the fourth quarter. They are expected to enter revenue services by the end of the year on routes in the Sverdlovsk region.
Further models to be developed
Sinara says it is working on the development of a dual-system version of the EMU, branded ES105, while the ES105A would be a version fitted with batteries to provide 'last mile' off-wire capability. An ES106 variant is also planned, which would be designed for suburban rail operation, along with a double-deck version, branded ES106D. The Lastochka brand would be retained across the family.
Sinara expects to start series production of the ES105 in 2024. This would also feature reclining seats, business class, and bicycle compartments. The ES105A batch would follow from 2025 while the ES106s are to be rolled out from 2026; these are to be designed primarily to run on the Moskva Central Diameter commuter network, which is currently being expanded.