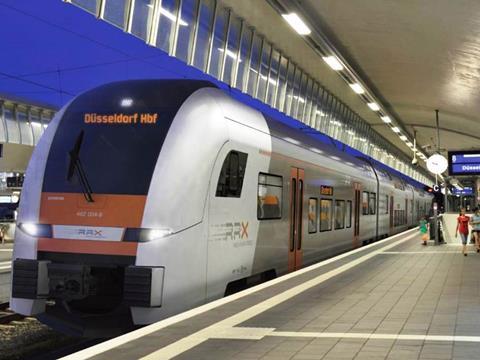 GERMANY: The four regional authorities promoting the Rhein-Ruhr-Express project announced on February 10 that Siemens had been selected as preferred bidder to supply and maintain for 30 years the double-deck trainsets to be used by the future operating concessionaire.
Subject to ratification by the governing bodies of Verkehrsverbund Rhein-Ruhr, NWL Zweckverband Nahverkehr Westfalen-Lippe, Zweckverband Schienenpersonennahverkehr Rheinland-Pfalz Nord and Nordhessische Verkehrsverbund, the contract is expected to be signed by March 26.
Three suppliers had bid for the order, which was tendered in October 2013. The other bidders were Stadler and a joint venture of Alstom and Škoda. Commenting on the three 'interesting and competitive offers' in a 'challenging' process, Nordrhein-Westfalen Transport Minister Michael Groschek thanked all the bidders for 'demonstrating their capacity for innovation and willingness to break new ground', even if only one could win.
Under a contract valued at up to €900m, Siemens is to supply a fleet of 82 double-deck EMUs designated Desiro HC, which are due to enter service in 2018. Designed for 160 km/h operation, the air-conditioned trainsets are required to have a capacity of 400 passengers, easy access at all doors and at least two toilets, one of which must be PRM accessible.
The six-route Rhein-Ruhr-Express network to be launched in December 2018 will connect the major cities of the region, including Köln, Leverkusen, Düsseldorf, Duisburg, Bochum, Dortmund and Bielefeld, with some services extending as far as Koblenz. A 15 min interval service is envisaged on the core route between Düsseldorf and Köln, once the necessary infrastructure improvements have been completed.
The four authorities decided to procure the trainsets directly in order to ensure a standardised fleet across the future RRX network, before calling tenders for operation of the various routes. This approach was endorsed last October when the Münster procurement tribunal rejected a legal objection from DB Regio.