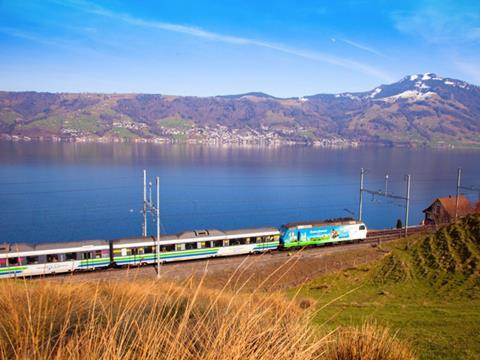 SWITZERLAND: St Gallen-based Südostbahn AG has unveiled proposals to introduce more attractive and cost-effective regional services on the Gotthard and Ostschweiz corridors, where the current operating contracts held by Swiss Federal Railways come up for renewal at the end of 2017.
Based on its experience with its St Gallen – Luzern Voralpen Express route, SOB believes that it could offer a better service over the Gotthard pass route, where an hourly regional train between Arth-Goldau and Lugano is envisaged following the start of regular services through the Gotthard Base Tunnel in December.
Based on consultation responses, SOB says the lack of direct connections from German-speaking parts of Switzerland would impact on the local tourism industry. It believes it would be possible to operate more through trains at a lower cost.
SOB envisages integrating the hourly Lugano – Arth-Goldau service with two-hourly extensions from Arth-Goldau to Zürich via Zug and to Basel via Luzern and Olten, alternating with SBB's inter-city service via the Base Tunnel. These services would also be integrated with Interregio trains from Basel and Zürich to Erstfeld and the TILO regional service between Erstfeld and Lugano, restoring direct connections from Basel to the south.
On the Ostschweiz corridor from Zürich, Winterthur and St Gallen along the Rhein/Rhine valley to Chur, SOB plans to launch a Rheintal Express service. This would replace the present Interregio service from Zürich to St Gallen and the Wil – Chur REX service, offering more 'direct and transfer-free connections', according to SOB CEO Thomas Kuchler.
By integrating the new corridors with the existing Voralpen Express services, SOB believes that it could achieve efficiencies of approximately SFr25m compared to the AS 2025 timetable concept currently out to consultation. This increased efficiency would 'directly benefit the public coffers of the federal government and the cantons', while the through trains would be more attractive to customers, as well as offering convenient connections between Germany and southern Switzerland.
SOB Chairman Hans Altherr said the proposals would 'fit step by step in our growth strategy', while Kuchler added that the two concepts would be feasible 'from both commercial and customer perspectives.