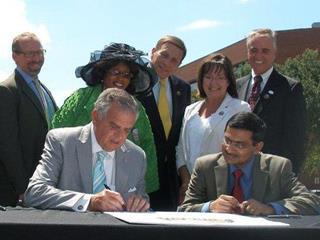 USA: Transportation Secretary Ray LaHood visited Orlando on July 18 to announce a $178·6m federal grant completing funding for the $357·2m capital costs of first phase of the SunRail commuter rail project.
Governor Rick Scott had put the project on hold earlier in the year, but gave the go-ahead on July 1 following lobbying and advice on the possibility of a successful legal challenge.
The 50 km from DeBary to Sand Lake Road in Orange County with 12 stations is now scheduled to open in May 2014. The project is being funded by the federal (50%), state (25%) and local authorities (25%). The state is buying the right-of-way for $432m from CSX, which will continue to carry freight on the route.
MotivePower is to supply seven diesel locomotives for $17·5m, and Bombardier will provide 14 push-pull BiLevel coaches for $30m. Trains will run every 2 h off-peak, and every 30 min in the peak.
Extensions north to DeLand and south to Poinciana will take the line to 98 km and 17 stations in the second phase.