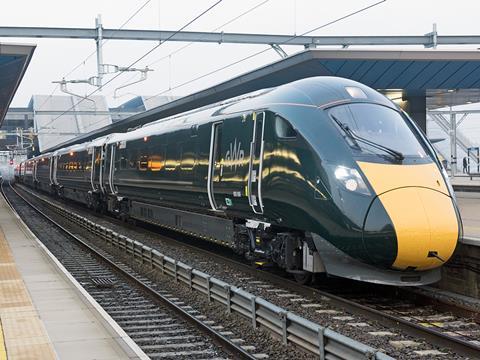 UK: All did not go to plan when the first of the Hitachi Class 800 trainsets ordered under the Department for Transport's £5·7bn Intercity Express Programme entered passenger service with Great Western Railway on October 16.
Industry guests gathered at Bristol Temple Meads station for the inaugural service, the 06.00 to London Paddington which was operated by five-car trainsets 800 005 and 800 006. However, the arrival of the empty stock from Stoke Gifford depot was delayed until 06.18 by problems with the train management system. An area of first class seating was closed off owing to water leakage from the air-conditioning, a problem which also affected a small area in standard class.
No further time was lost until Maidenhead, where the bi-mode train was scheduled to switch from diesel to 25 kV 50 Hz electric power. However, attempts to raise the pantographs proved fruitless, and the train came to a complete stand at Taplow for 14 min until the diesel engines were restarted for the remainder of the journey into London. The train arrived 39 min late, and the trainsets were taken out of service as a result of the technical problems.
The second diagram, operated by sets 800 008 and 800 009, began with the 07.00 from London Paddington to Bristol Temple Meads which arrived 6 min late, followed by the 09.30 back to London which arrived 8 min late. These trainsets operated satisfactorily, including under electric power between Paddington and Maidenhead with the switch between modes carried out at speed.
'After much hard work across the rail industry, I am delighted our first Intercity Express Train has successfully completed its first journey in passenger service', said GWR Managing Director Mark Hopwood. 'During the next year we will continue to expand the operation of these new trains across the southwest and Wales as far as Swansea, including the introduction of another IET fleet specific to Devon and Cornwall next year. The new trains, alongside our new Electrostar fleet for London and the Thames Valley, will bring about a step change in passenger transport, delivering more seats, and enabling us to operate more frequent and faster services.'
Intercity Express Programme
The Intercity Express Programme was led by the government, emerging from the industry-led HST2 proposal dating back to 2005 for the co-ordinated procurement of new trainsets to replace the ex-British Rail Intercity 125 fleets. IEP proved protracted, with the proposed designs switching from 200 km/h diesel to electric to electro-diesel as governments' attitudes towards electrification evolved.
The 36 five-car and 21 nine-car Class 800 bimode trainsets for GWR are being financed, supplied and maintained by the Agility Trains West consortium now comprising Hitachi Rail Europe, John Laing Group and John Laing Infrastructure Fund, which was named preferred bidder in February 2009 and signed the contract in July 2012. The operator will pay Agility Trains an availability payment, while DfT is providing a 27½-year usage guarantee. Similar trainsets for the InterCity East Coast franchise are being supplied by Agility Trains East.
The first pre-series trainsets were assembled at Hitachi's Kasado works in Japan, while the company developed a factory at Newton Aycliffe in northeast England.
Separately from IEP, Hitachi is to supply 22 five-car and 14 nine-car AT300 Class 802 electro-diesel trainsets which GWR will lease from Eversholt Rail for use on services from London to Devon and Cornwall, 19 AT300 trainsets which TransPennine Express will lease from Angel Trains and five which Angel Trains will lease to open access operator Hull Trains .
Speaking to Railway Gazette at London Paddington, Hitachi Rail Europe Managing Director Karen Boswell said the first passenger services were 'the culmination of nine years' work', including £82m of investment in the Newton Aycliffe factory and £160m in maintenance facilities. 'We have had our technical hitches on one train, whilst the other has been fine, and it is frustrating for us', said Boswell. 'But actually when you think about the benefits, and listening to feedback from passengers today about the need for the extra capacity, these trains really will make a difference', she added. 'We want every one of our trains to run brilliantly and I'm confident that we will get to that very quickly; we just had a few technical problems today we just have to hold our heads high because this is the right thing for passengers in terms of capacity, performance and the overall environment. These sets have all done their 5 000 miles [8 000 km] of fault-free running and we haven't had the problems we had today so we'll go away and understand that.'
IEP procurement was described in detail in the June 2011 issue of Railway Gazette International magazine, which subscribers can read in the digital archive. A comparison of IEP and Germany's ICx programme appeared in the September 20111 issue.