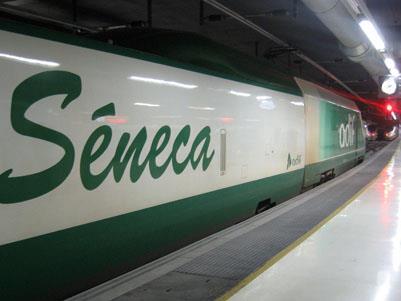 SPAIN: RENFE began using the new tunnel between Sants and La Sagrera in Barcelona on December 17, as it commenced test running with Class 103 trainsets on the high speed line between Sants, Girona and Figueres Vilafant. Taking place between 08.00 and 18.00, the test runs are also being used to train staff on the new route which is due to enter service next year.
Before RENFE trains began to use the new route, ADIF had conducted over 20 000 km of test runs using its own high speed infrastructure monitoring trainsets. Track, electrification and signalling including ETCS and GSM-R have been tested round the clock, including runs on TP Ferro infrastructure between Figueres and the French border.
Pending approval for RENFE rolling stock to operate into France and SNCF trainsets to use ADIF infrastructure to reach Barcelona, the Ministry of Development has announced that nine high speed services will operate daily in each direction between Barcelona Sants and Figueres Vilafant, offering a journey time of 55 min compared to 1 h 44 min on the fastest conventional service. Eight will start or terminate in Madrid, and until through services start there will be two connections a day at Figueres with TGVs to and from Paris.