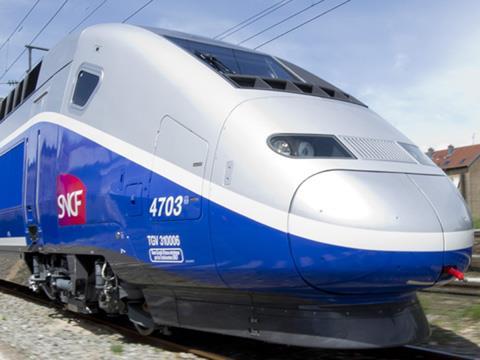 FRANCE: Alstom Chief Executive Patrick Kron formally handed over the first of 55 'third generation' TGV Duplex high speed trainsets to SNCF President Guillaume Pepy by on May 30.
Ordered in June 2007, the latest evolution of the TGV Duplex family incorporates changes arising from EU Technical Specifications for Interoperability, as well as improved passenger information and fire safety equipment and changes aimed at lowering operator's life cycle costs.
The 320 km/h SNCF trainsets will have signalling and multi-voltage electrical equipment for use in France, Germany, Switzerland and Luxembourg, and some will be modified with fire doors for use in Spain. The third generation platform also forms the basis of the 14 sets which Morocco's ONCF ordered in December 2010 for use on Tanger - Casablanca services from 2015.
The first two SNCF trainsets are currently undergoing approval before entry into service from 'late 2011', and deliveries will run to 2014. They are to be deployed on routes including LGV Rhin-Rhône, scheduled to open in December.
Passenger information has been improved from previous TGVs, with new external displays near each door designed to make it easier to read train and coach numbers and the destination. Internal multi-lingual displays will show the stations served, time, current location and speed. Staff have a console to control audio announcements, and ground-to-train communications will make it possible to provide information about connections at the next station or alert maintenance teams to failures.
The 509 seats have digital reservation displays showing the journey segments for which they are occupied, and these can be updated after departure. Internal changes to meet Persons with Reduced Mobility requirements include 50 dedicated PRM seats, as well as wheelchair spaces and larger toilets and aisles to make it easier to move around.
Fire detection systems have been extended to the toilets, family saloon, baggage areas, electrical cabinets and machine compartments, and the trains are designed to incorporate CCTV.