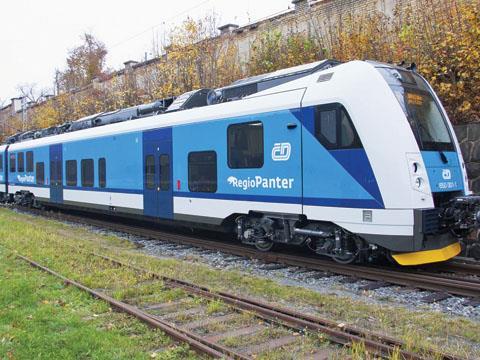 CZECH REPUBLIC: State-owned ČD, DB subsidiary Arriva and ČSAD Jihotrans company GW Train Regio have submitted bids for a contract to operate regional services in the Šumava region of southern Bohemia.
The contract runs from for 15 years from December 2016 and is potentially worth KC2·25bn. It covers the operation of 1·3 million train-km/year on three routes totalling 229 km:
Line 194 České Budějovice – Černý Kříž;
Line 198 Strakonice – Volary;
Line 197 Číčenice – Volary - Nové Údolí.
Requirements include the provision of new low-floor rolling stock which must be able to reach 100 km/h and provide space for bicycles.
This is the country's largest ever regional train operating contract, and the first since the Ministry of Transport cancelled tendering for a contract to operate Ostrava – Krnov – Olomouc services in July 2013; on that occasion RegioJet had been the sole qualified bidder.
RegioJet and National Express have chosen not to bid for the Šumava contract, with both companies criticising the specifications, risk allocation and complexity in the tendering process.
Outside the terms of the tender, Leo Express has proposed replacing the local rail services with 10 gas-fuelled buses, with trains to be retained only on the busiest České Budějovice – Volary – Nové Údolí route where four new DMUs would be deployed.