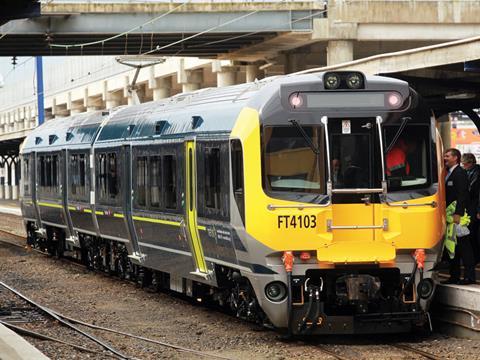 NEW ZEALAND: The Transdev Wellington joint venture of Transdev and Hyundai Rotem has taken over the operation of the capital's suburban rail network from KiwiRail with effect from July 3.
Under a contract with Greater Wellington Regional Council signed on March 15, the consortium will operate the service for nine years, with two three-year extensions subject to meeting performance and customer satisfaction targets. The company has around 450 staff and operates 2 189 trains per week.
Transdev Wellington Managing Director Niclas Flodin said Transdev's first priority was to work closely with GWRC 'to ensure a smooth transition for our people and our customers', adding that the company would be focusing on improved performance and customer experience, 'over the coming months'.
Noting that the region has 'a well patronised and supported public transport system', Flodin said Transdev Wellington aimed 'to use our expertise to lift performance even higher'. A new service control centre at Wellington station is due for completion 'before the end of the year'. Bringing together operational controllers and customer communications functions in a single facility is expected to help Transdev run an enhanced service, ensuring accurate and timely information for customers.
The services will operate under the Metlink brand, and Transdev Wellington will work with GWRC to ensure that the rail network is fully integrated with the capital's other public transport operations. Flodin said this would include better integrated timetabling between trains and buses, and the introduction of a single ticketing system.
Hyundai Rotem is currently delivering a a second build of 35 two-car Matangi EMUs, augmenting the initial fleet of 48 sets delivered in 2010-12. These have replaced the remaining Ganz-Mavag EM/ET units dating from 1982-83, which were withdrawn from May 27, and will also permit the operation of longer trains, starting with the Kapiti line.