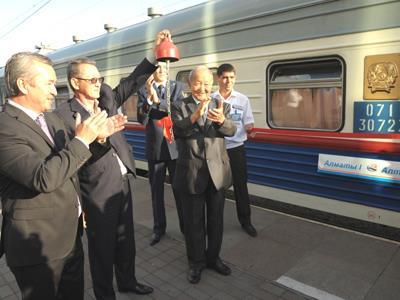 KAZAKHSTAN: Private sector operator Turan Express launched an overnight passenger train between Almaty and Altynkol on September 3, having run a trial on September 1. It uses the recently-completed 293 km Zhetigen - Korgas line, built by national railway KTZ to provide a second freight route to the Chinese border.
At Altynkol passengers and their luggage transfer to connecting buses to reach the International Centre for Transfrontier Co-operation, the cross-border freight and free trade development at Korgas which opened on April 18. The integrated passenger service is designed to enable representatives of small and medium enterprises to spend a full day at Korgas and arrive back in Almaty early the next morning.
The train journey takes 6 h, and will also serve industrial sites, schools and medical centres being developed along the route, as well as the new village of Nurkent where an initial 565 railway staff and civil servants began moving in during July.
Turan Express specialises in business travel services, in particular for the oil and gas sectors. The train currently has five cars offering accommodation for a total of 250 passengers, plus a baggage car, and could be increased to 16 cars as demand grows.