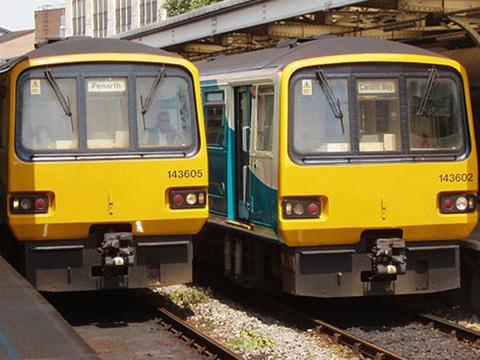 UK: Great Britain's passenger rolling stock fleet might need to double in size by 2042 to accommodate increased ridership, electrification and other proposed enhancements, according to a high-level analysis of future scenarios published on February 12.
The 'Long Term Passenger Rolling Stock Strategy for the Rail Industry' has been produced by a group comprising the Association of Train Operating Companies, infrastructure manager Network Rail and rolling stock leasing companies Angel Trains, Eversholt Rail Group and Porterbrook Leasing.
'This strategy marks the first time that the long-term rolling stock implications of passenger growth and infrastructure upgrades such as electrification and High Speed 2 have been modelled and considered together', according to Paul Plummer, NR's Group Strategy Director.
Predicted route-specific growth rates based on Network Rail's Route Utilisation Strategies have been used for demand modelling, with 'medium' scenario figures ranging from 23% to 132% increases in passenger-km. 'Low' scenario figures are 30% below this, 'high' cases 30% above.
There is a potential requirement for 13 000 to 19 000 new electric vehicles by 2042, compared with around 8 500 in operation at present. Of these, 9 000 would provide a net fleet increase and 4 000 would replace stock procured by British Rail. Committed electrification projects could increase the proportion of the fleet made up by electric vehicles from around 68% today to 80% in 2019, and further electrification could take this figure to above 90% by 2042.
The report is intended to inform the development of government strategy, rather than set out a detailed cascade plan for existing fleets. However, electrification would allow new and mid-life DMUs to be transferred to routes where growth has been constrained by a lack of rolling stock.
This could mean no new 'self-powered' vehicles would be required in Control Periods 5 and 6 (2014-19 and 2019-24), and only 400 to 800 vehicles over the whole 30-year study period, mainly to replace BR diesel vehicles and support growth in demand on routes 'unlikely ever to be electrified'.
While a steady programme of building new trains would be beneficial for the supply industry, the report says that this unlikely to occur because procurement will be triggered by the award of new franchises. However, an early government commitment to a rolling electrification programme continuing beyond 2019 could improve efficiencies in the supply industry and increase confidence in the leasing market.