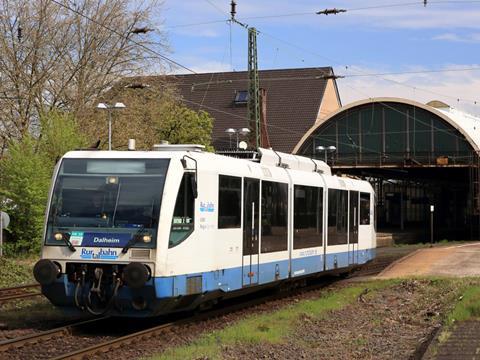 GERMANY: Following an international tender, the Rhein-Ruhr and Rheinland transport authorities VRR and NVR have jointly selected VIAS GmbH to operate Erft-Schwalm-Netz passenger services for 12 years from December 2017.
The decision was announced on March 26, with a contract to be signed following the 10-day standstill period.
The contract covers the operation of 850 000 train-km/year on routes RB34 Mönchengladbach – Rheydt – Dalheim and RB38 Düsseldorf Hbf – Neuss – Bedburg (Erft). VIAS currently operates RB34 under the Rurtalbahn brand as subcontractor to DB Regio NRW.
The RB38 service currently continues from Bedburg to Köln Messe/Deutz, but this section is to be electrified and integrated into the S-Bahn network, with connections at Bedburg. VRR studied electrifying the northern section of the route as well, but rejected this as the traffic volume is lower. VRR and NVR say the contract has been designed to incentivise good connections between the two services.
Vias will be responsible for procuring a fleet of Alstom DMUs for the services. These units will then be sold to VRR, which will lease them back to the operator for the duration of the operating contract.