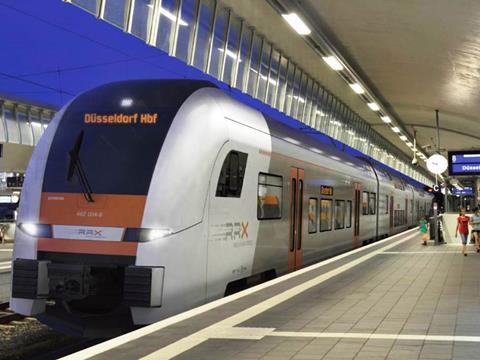 GERMANY: A 'record-breaking' order for Siemens to supply and maintain a fleet of 82 electric multiple-units for the Rhein-Ruhr-Express network was officially awarded on March 26 by a group of local transport authorities in the Rhein-Ruhr region.
The company had been selected in February as preferred bidder for the contract, which covers the supply of 82 Desiro HC double-deck EMUs and their maintenance for 32 years. With a total value of more than €1·7bn, Siemens says this is the largest order that it has ever won in the German regional transport market.
'This is a huge success for Siemens' rail business, which will secure existing jobs in Nordrhein-Westfalen and create new ones', said Siemens Mobility CEO Jochen Eickholt. 'A service order of this scale is a first for the German rail industry.'
Siemens is to build a maintenance facility at Dortmund-Eving, where a team of around 100 people will be able to service up to four trains at a time. As well as the maintenance building and workshops, the depot will have an external washing plant and stabling tracks for up to 10 trains.
Combining two single-deck driving cars and two double-deck intermediate vehicles, the 160 km/h Desiro HC units will be 105 m long, offering seats for around 400 passengers, although most RRX routes will be operated by two sets in multiple. Delivery of the trains is scheduled to start in 2018, with the first entering service in December of that year. RRX services are expected to operate at 15 min intervals once the necessary infrastructure upgrading works have been completed.
According to Verkehrsverbund Rhein-Ruhr, five companies submitted bids by March 20 for the contracts to operate RRX services totalling around 14·6 million train-km per year. To encourage the participation of smaller operators, the tenders had been split into three lots, covering routes RE1 and 11, RE5 and 6, and RE4. Further clarification of financial aspects of the bids will be needed before the future operators can be announced.
Although the Desiro HC EMUs will not enter traffic until 2018, VRR says regional services on the emerging RRX network will be enhanced from December 2015, with the introduction of an additional route RE6a between Düsseldorf and Köln. The following December will see Route RE6 extended from Düsseldorf to Köln Hbf and Köln-Bonn Airport. At that stage Route RE11 will also be modified to provide a third service between Hamm and Düsseldorf, being replaced between Duisburg and Mönchengladbach by an expanded RE42. From December 2018 RE11 will run hourly to Paderborn and two-hourly to Kassel, enhancing connections to and from Thüringen.
RRX routes to be worked with Desiro HC EMUs
| | | |
| --- | --- | --- |
| RE1 | Hamm – Essen – Köln – Aachen | June 2020 |
| RE4 | Aachen – Düsseldorf – Wuppertal – Dortmund | December 2020 |
| RE5 | (Emmerich) – Wesel – Düsseldorf – Köln – Remagen – Koblenz | June 2019 |
| RE6 | Minden – Dortmund – Düsseldorf – Neuss – Köln-Bonn Airport | December 2019 |
| RE11 | Düsseldorf – Essen – Hamm – Paderborn – Kassel | December 2018 |