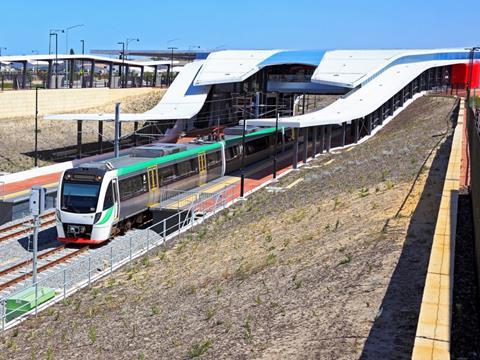 AUSTRALIA: Public Transport Authority of Western Australia announced on April 28 the finalisation of the A$1·176bn contract to build the Forrestfield-Airport Link in Perth.
A joint venture of Salini Impregilo and NRW was selected as preferred bidder in February. It will build 8 km of twin bore tunnels and three stations, and maintain the tunnels and civil structures for 10 years after completion. PTA estimates that the project will create 600 direct jobs.
Due to open in 2020, the 8·5 km line will leave the Midland Line east of Bayswater, cross the Swan River and serve stations at Belmont, Airport Central and Forrestfield. As it is an extension of the city's 1 067 mm gauge suburban network that will use existing rolling stock, the project is envisaged as being fully funded by the state rather than being tendered as a PPP contract. The federal government recently contributed A$490m towards the project.
Early work worth A$370m is already underway, including geotechnical work, contract management and land purchases. In November 2015 a bus route was introduced between the city centre and the airport as an interim service.
A detailed feature article on rail transport plans in Perth, including the airport link, appears in the March 2015 issue of Metro Report International, available to subscribers in our digital archive.