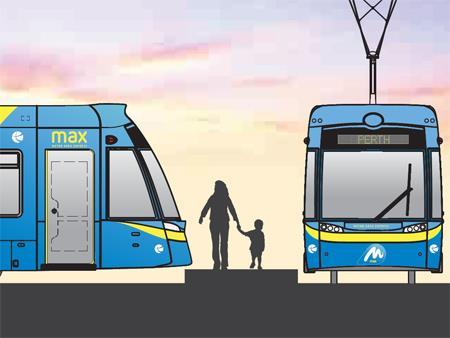 AUSTRALIA: Western Australia's 2013-14 budget has allocated A$432m over four years for construction of the 22 km Metro Area Express light rail line, serving the inner north, central west and eastern suburbs of Perth.
The mostly-segregated route would run south from the Polytechnic West Balga Campus in Mirrabooka, following Alexander Drive and Fitzgerald Street to the central business district. Branches would run west from the CBD to the QEII Medical Centre and east to the Causeway.
The state government has designated the A$1·9bn MAX scheme as a priority project, and construction is expected to get underway in 2016, with the first phase due to be operational by the end of 2019.
A joint venture of Parsons Brinkerhoff and AECOM has been selected to provide an 'integrated services team' for the next phase of the project, working with Western Australia Department of Transport to develop the business case. Parsons Brinckerhoff was previously lead consultant for concept design of the east-west alignment, whilst AECOM provided stakeholder and community engagement support to DoT.
The first two completed Flexity 2 trams for the Gold Coast light rail project were unloaded in Queensland on September 10, having been shipped from Bremen en route from the Bombardier plant at Bautzen.