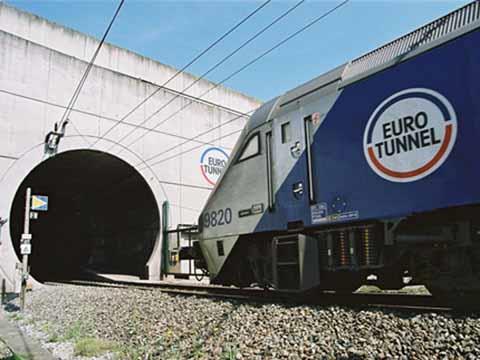 EUROPE: The UK's House of Lords EU Committee released a report on December 8 making key recommendations on the steps to be taken if the Channel Tunnel is to deliver its potential to carry more passengers and freight by rail.
The main thrust of the 'Tunnel vision? Completing the European rail market' report is that the Tunnel would be carrying more traffic if there were genuine competition. The Lords conclude that 'while we believe that the liberalisation of international passenger rail services will achieve greater competition, continuing disparities between Member States' implementation of the Railway Packages present barriers to growth. We also support voluntary co-operation between European [rail] regulators and would like to see a better resourced and more proactive European Railway Agency'.
The first step is for the EU to 'ensure the full implementation of the Railway Packages in all Member States to enforce fair access for all', they believe. The Treaty of Canterbury which set the framework for construction and operation of the Tunnel was signed 25 years ago, and 'it is time for its terms to be reviewed to ensure that it remains fit for purpose', say the Lords. 'Furthermore, we call for the EU safety standards and the Railway Packages to apply in full.'
In the context of market competition, the Lords 'are also concerned that the proposed Deutsche Bahn service, which intends to run from 2013, should commence on schedule'. However on December 9 it was reported that Siemens was running late with the manufacturing of Velaro D high speed trainsets for DB. According to a DB source quoted in the Financial Times, the delay could be two years, but Siemens denied that the delay would affect 16 similar e320 trains ordered by Eurostar.
Another barrier the Lords want see removed is the Intergovernmental Commission which regulates the Tunnel and insists on safety standards not found in other long tunnels. They would like to see the rail safety regulators in Britain and France sharing the task. 'Safety standards used across the EU should apply in full in the Tunnel - it is not a unique safety case and does not require unique standards' they insist.
Commenting after publication of the report, Committee Chairman Baroness O'Cathain said 'Although the planned Deutsche Bahn services from Frankfurt and Amsterdam will result in greater connectivity between the UK and the rest of Europe, there remain many obstacles in the way of an open and less bureaucratic travelling experience for both rail passengers and freight operators'.
She also insisted that 'The costs of using the Tunnel need to be reduced, the arrangements for purchasing tickets to travel on trains across Europe need to be easier and the interests of passengers must be placed at the very heart of services'.