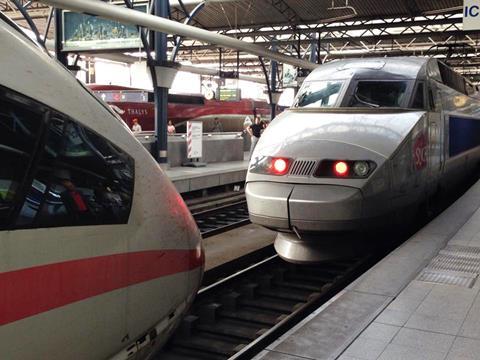 EUROPE: The technical pillar of the Fourth Railway Package which is designed to simplify certification procedures across the EU was approved by a plenary session of the European Parliament on April 28.
The technical pillar has been less controversial than the political pillar covering market opening, and the wording had been agreed during trialogue negotiations between the European Commission, Parliament and Council which ended in June 2015. The Parliament's Committee on Transport & Tourism approved the technical pillar in November.
The text will now undergo further procedural steps before being published in the Official Journal. Entry into force is expected in late June 2016, with implementation within three years. Member states may delay implementation by one year if they provide justification to the Commission and European Railway Agency.
Under the new arrangements, ERA would be renamed the European Union Agency for Railways, and would act as a 'one-stop shop' for safety certification of railway undertakings as well as the authorisation of locomotives and rolling stock for cross-border use in the EU, eliminating the need for manufacturers and operators to apply to national authorities in each country. For vehicles to be used within a single country, operators and manufacturers would be able to choose whether to obtain authorisation from ERA or the national safety authority. ERA would also gain powers to assess ERTMS equipment to ensure interoperability. A board of appeal would be formed within ERA to ensure impartiality.
In a joint response to the European Parliament's vote, the Community of European Railway & Infrastructure Companies, International Union of Wagon Keepers and UNIFE said they 'enthusiastically welcome this progress' towards a new legal framework which would be a 'major step towards the achievement of a Single European Railway Area'. It would also 'deeply reform the EU rail sector by fostering competition and encouraging innovation in railway markets'.
'We have to understand that this is much more than a mere "technical" pillar, as if it was all about solving engineering puzzles', said CER Executive Director Libor Lochman. 'Rather, this legislation represents the major contribution to rail transport policy that we've seen in years: once in force, the EU domestic and international markets will be truly open, and competition between operators and business models will truly be possible.'
SNCF's Permanent Representative in Brussels, Jean-Michel Dancoisne, said the French national railway had 'brought all its support' to the three-year legislative process, and would 'actively support the implementation of this pillar'. He called on European institutions to ensure that ERA has the necessary financial and human resources.
Noting the end of 'ideologically-motivated delay' to approval of the technical pillar, the European Transport Workers' Federation welcomed the requirement for railway companies to introduce a 'just culture' for reporting safety incidents. 'We observe a lack of proper monitoring and enforcement of the existing rules on driving and rest time for locomotive drivers in an open, competitive railway market', said Deputy General Secretary Sabine Trier. 'Even if we regret that the introduction of a digital recording device has not been included in the legislation, the Commission now has a more solid legal basis to clarify the responsibility for such implementation, controls and possible sanctions.'
The consolidated wording of the market pillar which was agreed by representatives of the Commission, Parliament and Council on April 19

was finally endorsed by the Coreper committee of the member states on April 28. These leg

is

lative measures to improve the governance of railway infrastructure and liberalise the passenger rail market are

due to be approved at the next meeting of the Transport Council, ahead of a final vote in the European Parliament in this autumn. ETF has expressed its opposition to the 'compromise' wording, saying it 'paves the way for more liberalisation of public passenger services by rail without improving the protection of working conditions and job security for workers concerned', and was 'an open invitation to social dumping.'