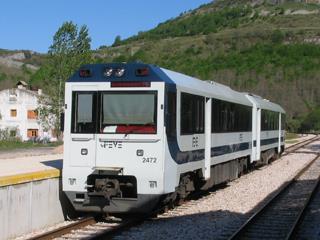 SPAIN: Meeting on July 5, the Spanish cabinet approved plans that aim to reduce by €4·7m in 2013 the operating loss made by passenger services on the 1 000 mm gauge network formerly operated by FEVE. The government says that this network is to be retained as a whole, with services to be protected as a public service obligation.
To reduce costs, service levels will be tailored more closely to demand, greater use is to be made of request stops, and measures to reduce fare evasion are to be improved. An efficiency drive will also seek to profit from the synergies resulting from the transfer of train operations to RENFE following the abolition of FEVE at the end of 2012.
Serving mainly the north of Spain, the FEVE network was used by 9·5 million passengers in 2012, of which 9 million were carried on suburban services in cities including Oviedo, León, Gijón, Santander and Bilbao. Farebox income met 19% of the cost of suburban services and 10% of operating FEVE's regional routes last year, when the average train occupancy was 24%.
The Ministry of Development notes that transferring these services to road would be a difficult task, given local climatic conditions and that replacement buses would have to use what are often tortuous secondary routes in mountainous terrain. For this reason, a rail link remains 'essential' to maintain communications with certain towns and villages.
A parallel review considered the medium-distance Avant services operated by RENFE on high speed lines, which were used by 6 million passengers in 2012 at an average occupancy rate of 46·5%, covering 64·7% of their operating costs. Annual savings of €4·6m are expected to be produced by withdrawing the Jaén - Cádiz and Calatayud - Zaragoza services, the former replaced by a conventional service and the latter by making the cheaper Avant fares available on high speed trains between Madrid and Barcelona.