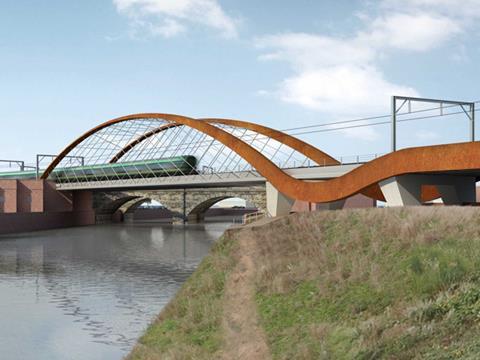 UK: Network Rail published its Strategic Business Plan on January 8, setting out proposals to spend £37·5bn in 2014-19.
The plan is the infrastructure manager's response to the publication last year of the UK and Scottish governments' High-Level Output Specifications outlining what the railway is required to deliver in Control Period 5, which runs from April 1 2014 to March 31 2019.
Major projects in the plan, many of which are long-term schemes already underway, include:
England
The Northern Hub project to increase rail capacity across the north of England (£560m)
More than 1 360 km of electrification, including the Great Western and Midland main lines
Supporting High Speed 2 Ltd and the Department for Transport as they start to build a high-speed network to relieve capacity constraints on the West Coast Main Line
Remodelling the Reading station area to remove a major bottleneck on the Great Western Main Line (£900m)
Completing the redevelopment of Birmingham New Street station (£600m)
The Oxford - Milton Keynes - Bedford phase of the East West Rail project, which will provide an electrified route linking the Great Western, West Coast and Midland main lines
Completing the Thameslink Programme (£6bn)
The 'biggest and most complicated station rebuilding and remodelling ever on our railway', at London Bridge
Completing the surface elements of the Crossrail project (£2·3bn)
Scotland
Completing the Borders Railway reopening project (£300m)
Improving the Aberdeen - Inverness route and opening a station at Kintore
Electrifying the Edinburgh Waverley - Glasgow Queen Street route
A rolling programme of electrification covering around 100 track-km/year, including Stirling, Dunblane and Alloa and selected suburban lines in Glasgow
Wales
Freight
Investment in the Strategic Freight Network, including upgrading strategic routes to accommodate larger containers (£200m)
The Office of Rail Regulation is seeking comments on the plan until February 19. It expects to publish a draft determination in June setting out how much money it believes Network Rail will need to deliver the proposals in the plan. A final determination is to follow in October, with Network Rail's delivery plan to be published in March 2014.
'As our railway gets busier the challenges get bigger and more complex', said Network Rail Chief Executive David Higgins. 'We have entered an era of trade-offs. Increasingly we have to balance the need to build more infrastructure, run trains on time and cut costs, and in many areas choices will need to be made.'