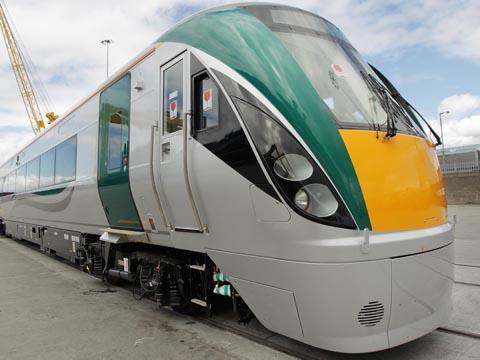 IRELAND: The 2030 Rail Network Strategy Review of the medium-term needs and long term vision for investment in the national rail network was published on February 22.
It recommends that improvements to speed and capacity on inter-city lines should be prioritised, with electrification of the two main routes considered in the longer term.
National railway Iarnród Éireann commissioned the Strategic Rail Investments Needs Review from AECOM and Goodbody in the light of the government's new National Development plan. This will set out public investment priorities for 2012-19 in the context of Ireland's revised economic circumstances since the financial crisis. The review focuses on long-distance and regional routes, with the Greater Dublin area to be considered separately by the National Transport Authority.
The final report recommends that investment should be concentrated on links between the major cities, based on a value for money approach.
A three-phase strategy is proposed, with an estimated annual spend of €215m on infrastructure and €116m on rolling stock maintenance and renewals to 2030.
The first phase to 2015 would focus on 'quick wins' generating large returns in passenger benefits and fare revenue. These include 'modest' infrastructure improvements to reduce journey times on the routes from Dublin to Cork and Galway, and development of a Dublin (M50) Parkway station on the line into Heuston station where passengers would change for a bus link to the airport. If additional money could be found, further journey time improvements would enhance the benefits.
Phase 2 in 2015-20 would include Portalington - Athlone double tracking to increase capacity, a DART suburban link between Clongriffin and Dublin Airport, and various upgrades which rely on growth in demand to make a satisfactory return.
Phase 3 in 2020-25 includes electrification of the Cork and Galway routes, which could generate 'significant returns' but only if aligned with rolling stock life cycles; premature replacement of existing inter-city DMUs would reduce the economic case.
Predicted demand on the Dublin - Belfast cross-border route is found to be to low to justify electrification, even if aligned with fleet renewal, but this 'should be kept under review'.
The report highlights the need to ensure that maintenance and renewal is safeguarded, to avoid assets being run down over time. A strategic decision is need to retain viable freight capacity, and public funding models devised for freight services which might not be profitable but would generate wider economic benefits.
A revision of the fares structure is suggested, with a clearer split between advance and walk-on tickets, and the elimination of anomalies such as return tickets being cheaper than singles.
Options for the lightly used Waterford - Limerick Junction and Limerick - Ballybrophy lines 'range from closure to more targeted services over sections of the routes.' Of possible new lines or reopenings, only Athenry - Tuam is proposed for further consideration.
IÉ Chief Executive Dick Fearn said the economic crisis should not prevent planning for the future. 'It would be easy in today's environment to focus solely on short-term measures needed to ensure financial viability and the protection of existing services', he said. 'However, public transport in general and rail development in particular must always be considered in the medium and long-term strategic context.'