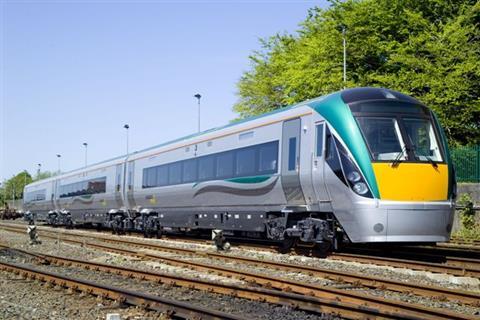 IRELAND: A €175m programme of infrastructure works to raise inter-city line speeds to 160 km/h has been put forward by Iarnród Éireann for possible inclusion in the 2012-16 national development plan which the government is to publish later this year.
IÉ completed a major rolling stock renewal programme under the previous Transport 21 investment plan, and the national railway says the focus should now be on infrastructure. The national motorway network has also received substantial investment in recent years, and 160 km/h running would allow IÉ to offer more competitive journey times of under 2 h from Dublin to Cork, Limerick, Galway and Waterford.
This would be achieved through track and subgrade improvements, level crossing works and the easing of curves, raising line speeds to 160 km/h on the Portlaoise - Limerick Junction, Sallins - Cherryville and Portarlington - Galway routes.
At present 50 km of the 266 km Dublin - Cork route is suitable for 160 km/h operation, with lower maximum speeds in force on other routes.