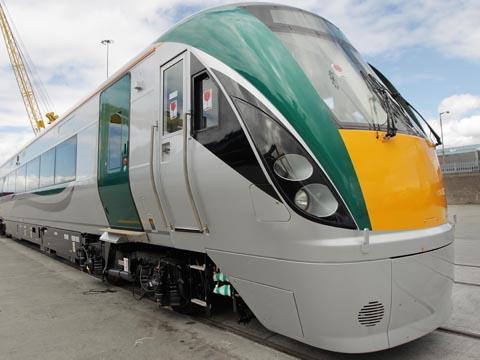 IRELAND: On May 30 Iarnród Éireann took delivery of the first 12 of 57 inter-city diesel multiple-unit cars which were ordered from Mitsui in 2009 and are being assembled by Hyundai Rotem of South Korea with components from Tokyu Car Corp of Japan.
The rest will arrive from South Korea by early 2012. They will take IÉ's domestic long-distance fleet to 234 DMU cars delivered since 2007, plus 67 CAF locomotive-hauled coaches used on the Dublin - Cork route. 'The order completes the transformation of IÉ's inter-city fleet from the oldest to the newest in western Europe', the state-owned rail operator said on May 30.
The latest vehicles are fitted with Tognum Powerpacks, and will be used to increase capacity on long distance routes from Dublin to Sligo, Galway, Limerick, Waterford and Rosslare. According to IÉ discussions are also 'ongoing' with NI Railways for their deployment on the Dublin - Belfast line, supplementing the existing hauled stock to enable the cross-border Enterprise service to be increased to hourly.
Translink General Manager, Rail Services Mal McGreevy discussed NI Railways' long-term ambitions for the cross-border route, including higher frequencies and electrification, in the June 2011 issue of Railway Gazette International.