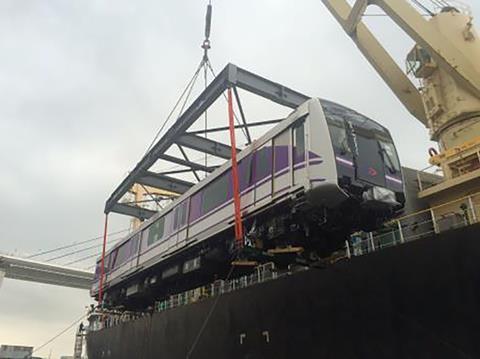 THAILAND: Kuala Lumpur transport agency Prasarana is to provide technical support to the Purple Line metro project in Bangkok by sending six drivers and five controllers from operating subsidiary Rapid Rail to Bangkok for four months.
The request for assistance on the site integration test came from the Marubeni-Toshiba joint venture that is supplying railway systems and providing 10 years of maintenance.
The 23 km Purple Line running from Bang Yai to Bang Sue with 16 stations is being developed by Bangkok Metro Public Co under a 30-year public-private partnership contract awarded by Mass Rapid Transit Authority of Thailand in 2012. The project is being financed through an overseas development assistance loan from Japan.
Services will be operated by 21 three-car trainsets being supplied by East Japan Railway's J-TREC business. Passenger operation is due to begin in late 2016.
Last month Prasarana signed a memorandum of understanding with Jakarta metro project manager MRT Jakarta. Prasarana says that it will share its experience in the planning and operation of urban rail lines, and that both parties will explore the possibility of exchanges in technical and operational information and expertise.
The first phase of Jakarta's north-south metro Line 1 is scheduled to be completed in 2018, with an extension following in 2020. A planned east-west line is envisaged to open in 2024.
Earlier this year Prasarana won a three-year contract to operate the Al Mashaaer Al Mugaddassah metro line in Makkah, which is only operated during the Hajj period.